HOUSTON - With donations at the Cypress gas station memorial topping $135,000 for the family of slain Harris County Deputy Darren Goforth and a GoFundMe effort launched by his fellow deputies surpassing an additional $200,000 by Wednesday afternoon, fundraising organizers admitted the outpouring of community support was exceeding all of their expectations.
"I'm kind of at a loss for words right now," said a tearful Amy Lasko, one of the neighbors and community volunteers who have been at the murder site-turned memorial since Saturday.
Harris County Sheriff's Deputy Sandeep Dhaliwal is stunned by the community response as well.
"He is one of the reasons I am in uniform today," said the deputy of his mentor and friend Deputy Goforth. "It's very personal for me. Plus, I was first on the scene as well," he said of the night Goforth was killed.
Photos: Houstonians show support for #BlueHouston
But what has supported him and his fellow deputies since is all of the support he has seen at the memorial and throughout the community with trees adorned with blue ribbons.
There have also been crowds of people that have waited hours for their chance to pick up a freshly printed yard sign from InkDots Printing on Cypress N. Houston road.
The signs show the picture of Deputy Goforth with the message "Love One Another" and "Greater Love Hath No One Than This, To Lay Down His Life for His Friends."
"And they're still doing it five days later," remarked Dhaliwal of the community support. "And this is what we need. That's what we need. It's going to keep us going. Our brother may have given his life, but he started something that will turn this hate around."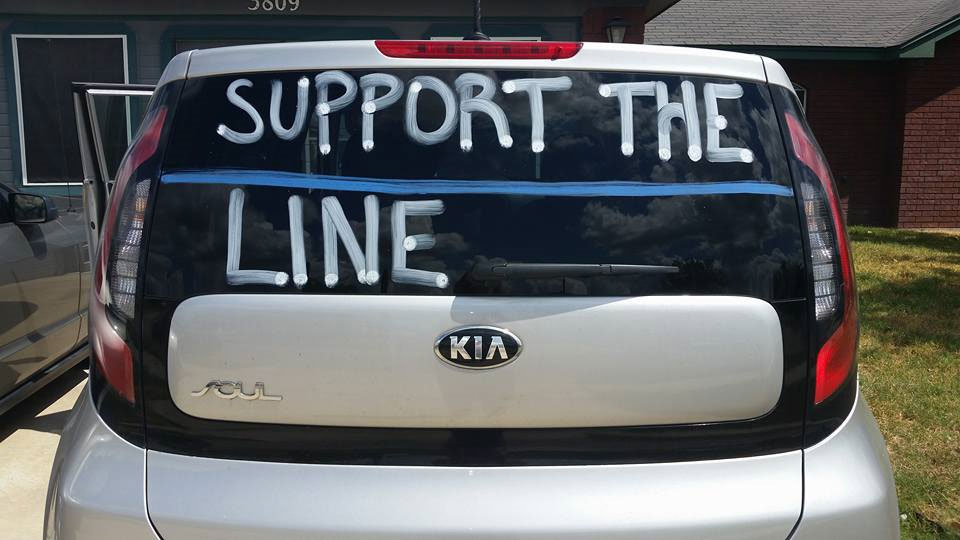 And to keep it turning around Dhaliwal started #BlueHouston. He wants everyone to use the hashtag on social media and use it often so it can go viral.
Even if you can't give money or can't be at the Friday funeral that is expected to draw several thousand mourners, you can still spread your support for law enforcement nationwide with a powerful social media message.
"We're cut we all bleed," said Lasko. "And that's the point that needs to be made that this is our community, this is our state, this is our nation and we need to become united."
"Just to show your support for police officers. That's all we want," said deputy Dhaliwal.