At first, John Barnes heard a fire alarm.
Then, he smelled gunpowder.
It was a Friday, May 18, 2018, and first period just began. Barnes, a police officer at Santa Fe High School, made his way down an art hallway at the back of the school. He had his pistol drawn. Students filled the hallway—hooping and hollering, Barnes said—as they made their way out of the school.
Barnes was confused. He'd spent more than 20 years with the Houston Police Department before retiring and joining Santa Fe, and often when he smelled gunpowder there was a shooting. But students in the hallway were acting like there was nothing wrong.
That's when he saw two substitute teachers get shot.
Barnes ducked behind a corner, shattered glass strewn across the tile floor. He still hadn't seen the shooter. As he leaned out of the corner, a shotgun blast caught his right elbow, shattering his bone and severing an artery. Barnes fell to the ground.
He grabbed his radio, "Officer down."
Gary Forward was steps behind Barnes. Forward is the assistant police chief for the Santa Fe Independent School District. Like Barnes, Forward had spent decades as a police officer; he came from upstate New York before moving to Texas to retire. He and Barnes were the only officers on campus at the time.
Forward ran to Barnes, blood streaming onto the tile, and quickly wrapped a tourniquet around his arm.
"In all my years on the job and all the injuries I've seen, I've never seen anything like that," Forward said, who's been a police officer for over 30 years. "I've never seen a catastrophic blood loss to that magnitude ever."
Barnes said he was in shock, but still aware of the situation: the shooter hadn't been stopped.
"Then that kicks in and then you start worrying that they weren't going to get to me in time," he said.
Barnes was carried out of the school and onto a stretcher. He flown by medical helicopter to the University of Texas Medical Branch in Galveston. He said he died for three or four minutes on the flight.
"I was just thinking about staying alive," Barnes said. "I was just telling myself, 'Just breathe. As long as you're breathing, you're living.'"
He was rushed into emergency surgery as doctors tried to repair the damage to his arm.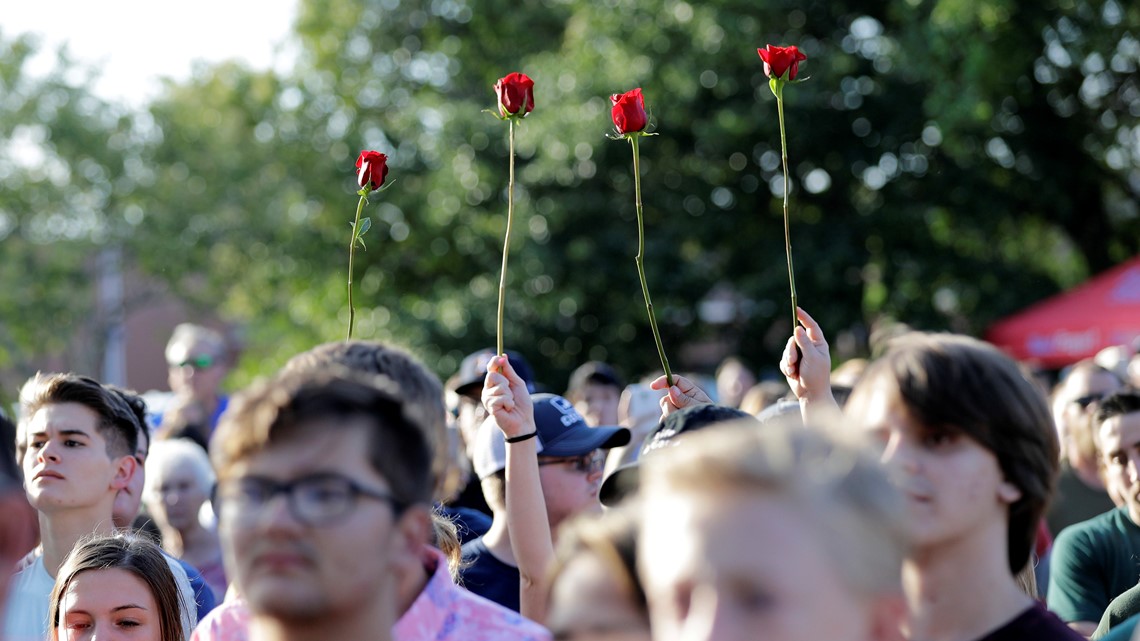 At a news conference in Santa Fe that day, Gov. Greg Abbott praised both Barnes and Forward for confronting the shooter. U.S. Sen. John Cornyn credited Barnes with helping stop the shooter.
"Sometimes it takes a good guy with a gun to stop a bad guy with a gun," Cornyn said at a news conference. "That's why it's important to have armed law enforcement officers present."
Barnes woke up at the hospital that evening groggy and still trying to grasp what happened. He wanted to know if Forward was OK. Forward visited him in the hospital that night.
"It was hard to go down and see him like that," Forward said. "I knew he was a tough son of a gun, but I didn't know how tough until now."
Barnes said doctors told him he lost enough blood that his organs should have shut down, but they didn't. He said he suffered an acute brain injury because of the blood loss and for a time he slurred his words, but that eventually went away.
Barnes spent 33 days in the hospital. In the year since the shooting, he's had more surgeries, undergone physical therapy and admits he has emotional scars from the shooting. He wears a blue sleeve that covers his right arm to prevent infection. He needs another surgery on his arm because of a previous infection.
But he said he's getting his mobility back, though his strength isn't what it once was.
He's seeing a psychologist now, as well, and he attended a three-day program for people who have gone through traumatic experiences. He'd like to see more police officers do the same. Barnes doesn't feel enough attention is placed on officers' mental health.
Both Barnes and Forward are thankful for the support they've received from their fellow officers—from lining up outside the hospital, being outside the school when students returned to class, and attending Barnes daughter's softball games when he couldn't be there.
"I've seen that my whole career, but to be on the receiving end, that's quite a different story," Barnes said.
Though Barnes has spent much of the past year recovering, he's picked a fight to help keep the shooter behind bars the rest of his life. It's one fight that all the victims' families and survivors can agree on.
Earlier this year, the Department of Justice declined to press federal charges against the shooter.
Under current law, because the shooter was 17 at the time of the attack, he isn't subjected to the death penalty and would be eligible for parole in 40 years.
The families were outraged at the news. In addition to their calls to lawmakers, Barnes used his channels in law enforcement to help convince the federal government to press charges. Because with a federal conviction, the shooter won't be eligible for parole for 100 years.
Despite the fight, it was a victory for everyone affected by the shooting.
"It tells you our system does work whenever there's enough outcry," Barnes said.
Sitting in his home today, Barnes is thankful to still be alive—a fact he credits Forward.
"If it wasn't for Gary and the other officers who dragged me out of there, I wouldn't be sitting here," he said.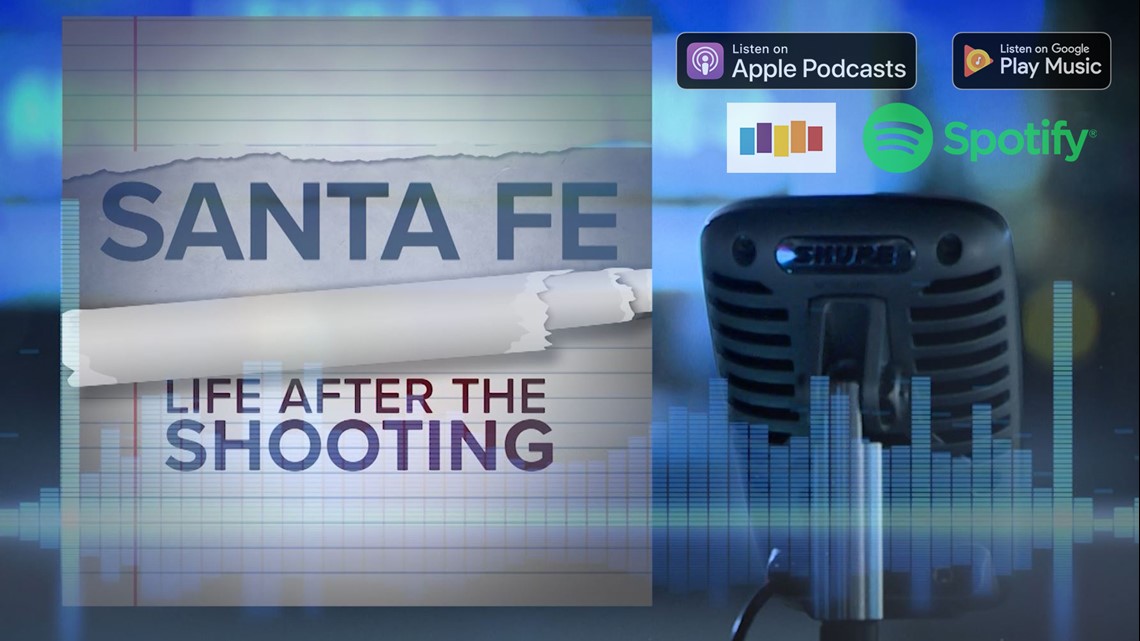 Podcast: 'Santa Fe: Life After the Shooting'
Officers John Barnes and Gary Forward were the first two officers to confront the shooter. John nearly died trying to protect hundreds of students.
So little do we hear about the long-lasting effects on the victims' families after a school shooting. This is the window into one family's grief who is still learning to live without the woman they knew as Grammy.
For some students who have had to return to Santa Fe High School, going back hasn't been easy. Walking through the doors of the school serves as a constant reminder of the lives lost, their friends and classmates no longer there.
Unfortunately, there are people out there who know what these Santa Fe families are going through. The principal of Columbine, two moms from Sandy Hook and the father who lost his daughter in a school shooting in Colorado share their experiences of how they continue to remember their loved ones.
For some of these Santa Fe families, they're frustrated and angry. They want more transparency into the shooting investigation, more accountability from politicians. And they've had to fight in hopes of keeping the shooter in prison for the rest of his life.