This Valentine's Day, U.S. consumers were projected to spend a collective $182 billion on fancy dinners, cards, flowers, and other gifts for their loved ones, according to the National Retail Federation. Jewelry retailers can expect to receive a sizable chunk of that spending. One in five Americans said they'd give jewelry as a gift to their significant other this Valentine's Day, totaling an expected $4.3 billion spent nationwide.
If you can't afford to pay for a large jewelry purchase out of pocket, most jewelry retailers are more than happy to let you finance it with a store credit card. But beware: Diamonds might be "a girl's best friend," but a jewelry store retailer isn't always looking out for your best interest. As you would with financing any large purchase, you should thoroughly evaluate your decision before you sign on.
Here are 5 questions to ask before you finance through a jewelry store.
1. What happens if I can't pay off my balance before the promotional period ends?
Low-interest or 0% financing promotions for jewelers typically last from 6 to 18 months. You may be tempted to wait to make payments until some time goes by. But if you don't start making payments right away, you may find yourself with a balance even after the promotional period ends. And that can spell trouble for your finances. Some financing offers include "deferred interest" clauses, which means if you even owe $1 after the 0% period ends, they will charge you interest from the beginning.
Take online fine jewelry seller Blue Nile, for example. Right now, the company has a promotion for 0% financing for 6 or 12 months, depending on how much you spend. Deep in the company's terms, a deferred interest clause is buried, warning shoppers that "interest will be charged to your account from the purchase date if the purchase balance is not paid in full" by the end of the period or if you make a late payment.
Other jewelers may offer a low promotional rate for a certain period but will raise the annual percentage rate (APR) if you aren't able to pay the balance in full by then. For example, the Zales credit card starts off with a low 9.99% APR if you make a minimum purchase of $1,500 and pay it off within 36 months. But if you can't pay it off by then, they will triple your rate, making it 29.40%.
2. Can I afford my monthly payments?
Do the math to find out what your monthly payments will be and how long you'll need to pay back the loan. If it looks like it's going to be a struggle to pay the loan back before your promotional period ends, you're probably borrowing more than you can really afford and you're asking for trouble — especially if there's a deferred interest clause.
If you really want to do it to finance the purchase, make sure it's something that you can pay off within the promotional period. To save money, try comparing prices at several different retailers, opting for a more modest precious gem instead of a diamond or using a grandparent's ring instead.
3. Is there a down payment or minimum purchase requirement?
Some jewelers may require a down payment in order to qualify for a 0% financing offer. For example, Kay Jewelers charges a 20% minimum down payment for their 12-month 0% interest financing plan. Zales offers 6 months of financing interest free if you open up a credit card for a minimum purchase of $150, but that period extends to 18 months for purchases of $3,000 or more.
You don't want to be surprised by any fees either. Some retailers will charge a transaction fee simply for processing your payment. Zales doesn't charge a transaction fee for people taking advantage of 6-month or 36-month financing, but it tacks on a $9.95 transaction fee for their 12-month and 18-month interest-free tiers.
Look closely for any maintenance fees like annual fees charged for each year you have the card open, or penalty fees for late or returned payments.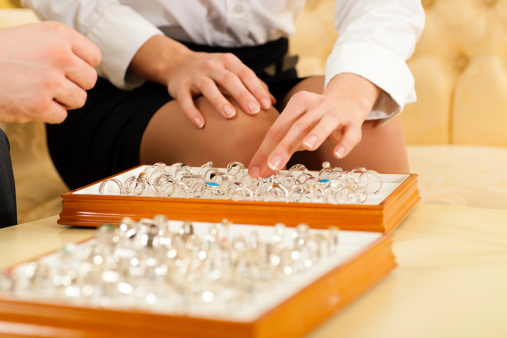 4. Are there any warranties or insurance policies?
You're making a large purchase that you can't afford out of pocket, so you'll want to protect yourself in case the jewelry is lost or damaged. Many retailers, like Jared or Kay Jewelers, offer lifetime diamond and gem warranties that cover cleaning and repair, although you may have to meet certain requirements to maintain a warranty.
To maintain a Zales Lifetime Diamond Commitment or Jared's Lifetime Diamond & Color Gemstone Guarantee, for example, you need to take the piece to a store for cleaning and inspection every six months. You'll need to bring your inspection history with you when you go, and the warranty doesn't cover making any repairs. You could void your warranty if you don't keep up or if you don't make the suggested repairs.
Some plans offer additional protection plans to cover theft. Zales offers a lifetime jewelry protection plan with theft replacement for the first two years. To use it, you'll need to bring in a police report and proof of purchase, but the warranty is void if a family member steals your jewelry.
You could forgo the jeweler's insurance for your own, however, and tack the piece onto your home or renter's insurance plan as a 'jewelry rider' for a few dollars more each month.
5. What's the return policy?
Not to be a killjoy, but what if you break up with your significant other before you get a chance to give them the gift? What if they don't like it or — even crazier — the salesperson was just really good and after the purchase you decide you don't like the jewelry you picked out? You'll need to make a return, and you'll want to make sure you get your money back.
Ask about the company's return policy related to in-store financing. You'll want to know what the period is to make a return or exchange, as they may differ, and when you'll see the charge removed from your account. Keep in mind, many jewelers won't let you return specially made or engraved jewelry; however, some, like Blue Nile, make an exception for rings.
If you're returning an online purchase, ask about any extra fees you may need to pay, such as shipping or insurance for the jewelry.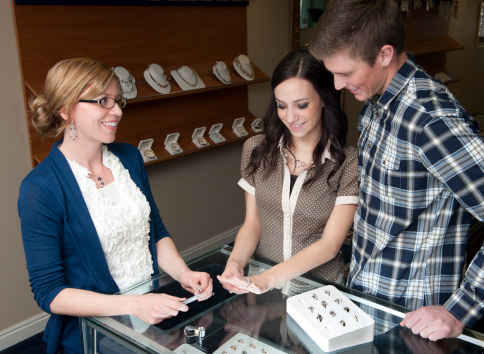 Alternatives to Jewelry Store Financing
Credit cards
Jewelry store cards generally charge high interest rates, so you might find a more competitive offer with a traditional bank or major credit card issuer.
If you don't want to open up a credit card, a personal loan can be an alternative way to finance the purchase, although you won't benefit from an interest-free promotional period.
Reach out to your network of close friends and family to see if you can get a more flexible, interest-free loan. To demonstrate responsibility, you may want to create a contract with payment terms and set a date for when you'll pay the loan back in full.
MagnifyMoney is a price comparison and financial education website, founded by former bankers who use their knowledge of how the system works to help you save money.