Celebrating HERstory: Shining light on women-owned businesses across Houston area
KHOU 11 is celebrating women who are killing it in business!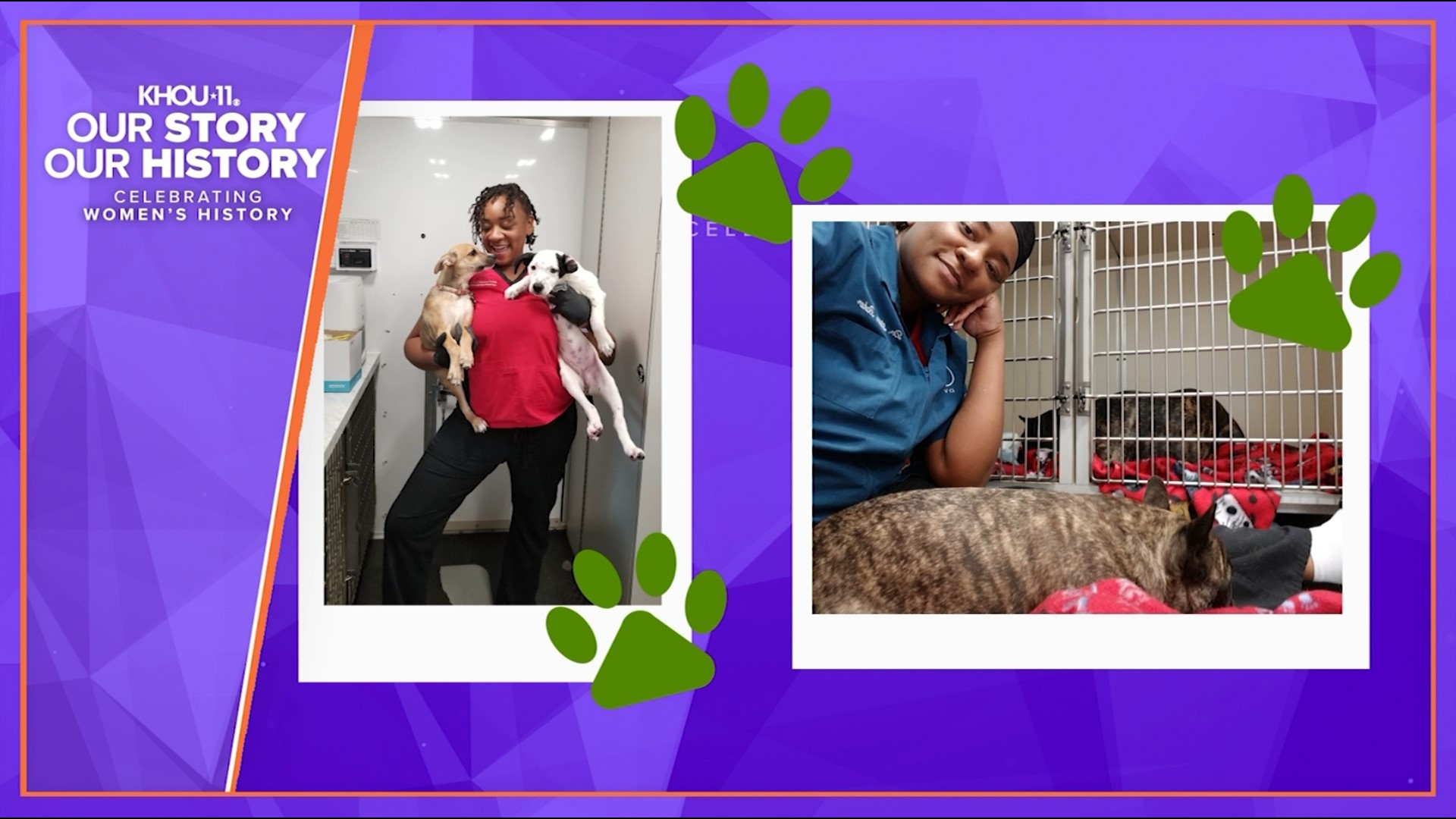 One of the ways KHOU 11 News is celebrating Women's History Month is by highlighting women-owned businesses across our area.
Nans Cookies
:
"We call them hojarascas"
A popular cookie business in Pasadena, called Nan's Cookies, is paying homage to a family tradition and preserving a legacy.
"We know them as hojarascas, but some people refer to call them pan de polvo," Azanett Bazan said.
She started baking the cinnamon-sugar cookies with her mother, Nan, to help get through the pandemic.
"My daughter said, 'Mom, why don't you get her to bake the cookies that she makes every year for Christmas," Bazan said.
They use the same recipe her father used more than 60 years ago.
"We bake with love and we pray over every batch," Bazan said.
Business has been booming on social media and they even offer deliveries.
Groupo Indi Construction Partners
:
"I got really comfortable with rejection"
Raquel Boujourne is founder and "SHE-E-O" of Indi Construction Partners, LLC.
The former professional mariachi singer launched her construction career 15 years ago.
"There was like an ad for somebody that needed to dig a ditch. So, I called the number to come out, nobody answered," Boujourne said. "So, I just showed up. I was like, 'Hey, I'd love to give you an estimate on digging a ditch.' Um, you know, I figured I could pick up a shovel. "
As a woman in a male-dominated industry, Boujourne said she often has to prove herself.
"I got really comfortable with rejection, and I used that rejection as an opportunity," she said.
Her company is headquartered in Friendswood, but she has more than 35 offices in Mexico, and more than 500 employees.
Shades of Melanin Hair
:
"We wanted the hair to benefit all races of women."
The business, which sells everything from wigs, hair extensions, hair care products and even eyelashes, has been open since 2019.
"Watching my daughters and their interest in hair, it came as an idea, like okay, I want to start this business because I want to leave generational wealth to them," Scott said.
"Shades of Melanin Hair" benefits women of all races, Scott said.
"We also wanted to meet the need of women that suffered cancer, alopecia, to make sure that the wigs and the hair look just like their own hair," she said.
Harold's Restaurant, Bar and Terrace
:
"I believe I was put on this earth to serve."
She says being a business owner is about being a job creator and trying to do more in your community.
"The women that are in our business, and particularly our hourly employees, it's very challenging for them when raising families and so we want to help them," Jarrett said.
She said she believes she was put on this earth to serve and hospitality dals into that category because she is able to give back to others.
Dumpling Haus
:
"A family-run business"
The dumplings at Dumpling Haus may be so tasty because there is love in the kitchen.
"Dumpling Haus is a family-run business here in Sawyer Yards," Ashely Lai said. "We sell handmade dumplings and homestyle Cantonese and Taiwanese food."
The dumplings made are dishes Ashley said her family ate while growing up. She said every single one of her family members working at Dumpling Haus has strengths that keep the business afloat.
"My sister Emily, she's really great at cooking. She's just a master of efficiency," Ashley said. "My mom is really creative too with the dumplings. She's a machine. She just works like crazy and she just has an eye for perfection."
SheSpace
:
"We needed a place for women..."
Meet Katie and Stephanie Tsuru, a unique mother and daughter-in-law team who owns SheSpace.
SheSpace is a female-focused workspace in the Heights.
"We felt we needed a place for women too, kind of a landing spot for female founders, freelancers, contractors, remote workers. A place where we can come and be together and feel supported."
Outside of providing a workspace for women, the two are extremely proud of the workshops they provide to women to help their businesses run successfully.
"We have ample opportunities for whatever you may need. Everything from one hour in a meeting room, to a day pass, to a monthly co-working space, to a yearly office lease."
Baker's Mobile Veterinary
:
"We're happy to take care of your babies"
Dr. Baker is the woman you're going to want to call if your furbabies are sick.
She's the owner of Baker's Mobile Veterinary Services. She offers full house call services, from X-rays to bloodwork to surgeries.
"We have been in business since July 2020 and we've grown to service well over 1,000 clients at this time with over 2,000 pets," Dr. Baker said.
Dr. Baker also provides mobile grooming if you're four-legged family members are in need of a new look.
Dr. Baker said what makes mobile veterinary services so special is that she's able to provide care for your pets in an environment that they're comfortable in.
"I'm able to walk into your front yard and tell you, hey that plant is toxic," she said. "I'm able to get normal heart rates and normal respiration rates because they're not stressed up from the ride over to the visit."
Baker's Mobile Veterinary Services services Cypress, Spring and parts of The Woodlands and Tomball. The business also makes trips to northwest Houston.
Irma's
:
"You got to cook with love"
There's nothing like food made with love and that's what you can expect at Irma's.
Irma Galvan opened her restaurant in the warehouse district in 1989.
She said her creativity in the kitchen has made her business as successful as it is today.
"When you think about Mexican food... you think about the rice and the beans and the fajita, but you have to put love into cooking your rice and cooking your beans. In anything that you do, you have to add your own imagination, your own ingredients into whatever you're cooking," she said.
More woman-owned businesses across Houston
If you know of a woman-owned business across the Houston area that you would like us to spotlight, email web@khou.com.