HOUSTON — FAMILY BACKGROUND
Barbara Pierce Bush to Marvin and Pauline Pierce was born June 8, 1925, in Rye, New York. Her father was the publisher of McCall's and Redbook magazines. She grew up with two elder siblings—Martha and James—and a younger brother named Scott. Her ancestor Thomas Pierce Jr., an early New England colonist, was also an ancestor of Franklin, the 14th president of the United States. She is a fourth cousin, four times removed, of Franklin Pierce and Henry Wadsworth Longfellow.
Barbara was only 16 when she met George, 17, at a Christmas dance in 1941. "They became engaged a year-and-a-half later, just before he went off to war as a Navy torpedo bomber pilot," according to the official White House biography. During their long-distance relationship, they shared love letters across the miles. She called him Poppy. He called her Bar. They married in 1945 after he returned home from the war. "I married the first man I ever kissed," she once said. "When I tell this to my children, they just about throw up." The couple celebrated 73 years of marriage in January.
Photos: Wedding of George H.W. Bush, Barbara Bush
The couple had six children, including a future president, and a little girl named Robin who died of leukemia at the age of 4. Years later, Mrs. Bush found it difficult to discuss Robin's death. In May 2000, the child was reinterred from the family plot in Connecticut to the grounds of the Bush Library in College Station. Her parents will also be buried there.
Photos: Bush family album
It was during Robin's illness in the 1950s, when Mrs. Bush's brown hair began to turn white. She later said dyed hair didn't look good on her and credited the color to the public's perception of her as "everybody's grandmother."
Her pearls sparked a national fashion trend when she wore them to her husband's inauguration in 1989. The pearls became synonymous with Bush, who later said she selected them to hide the wrinkles in her neck. The candid admission only bolstered her common sense and down-to-earth public image.
Photos: The Bushes in recent years
In an interview earlier this year with Smith College Magazine, she revealed her secrets for a long life: good doctors and a great husband.
"I have had great medical care and more operations than you would believe," she told the magazine. "I'm not sure God will recognize me; I have so many new body parts!"
"Also, George Bush has given me the world," she continued. "He is the best — thoughtful and loving."
Photos: Barbara Bush through the years
Bush is one of only two first ladies who was also the mother of a president. The other was Abigail Adams, wife of John Adams, the nation's second president, and mother of John Quincy Adams, the sixth president. She and George also made history as the first couple with the longest marriage.
The Bush family usually had at least one dog through the years, but the best known was Millie. The springer spaniel became famous during George Bush's tenure in the White House. Millie had a litter of puppies during that time and the Bushes kept one of them and named him Ranger. Another, named Spot, was given to George W. and Laura and he, too, would reside in the White House when George W. was elected president.
Photos: Bush pets through the years
Barbara shared her husband's love of sports and they were avid fans of the Texans and Astros. At Astros games, Barbara was often spotted by George's side, rocking a ballcap and keeping score. The couple threw out the first pitch on Opening Day a few years ago. When Houston hosted the Super Bowl in 2017, the Bushes were chosen for the coin toss.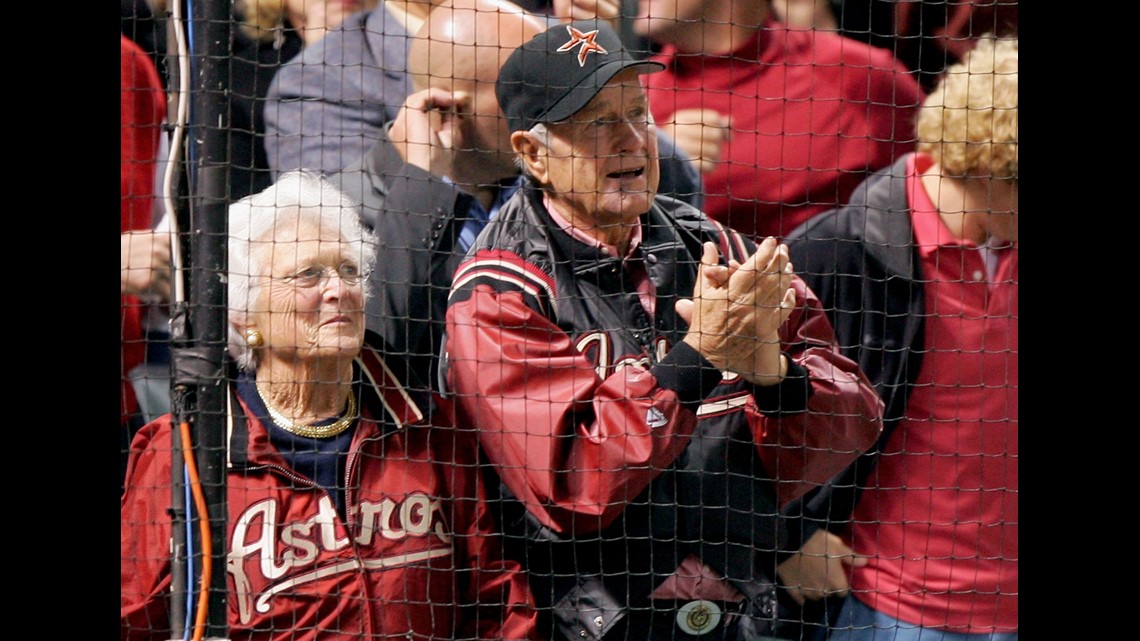 The Barbara Bush Foundation for Family Literacy began during her White House years with the goal of improving the lives of disadvantaged Americans by boosting literacy among parents and their children. The foundation partners with local programs and has awarded more than $40 million to create or expand more than 1,500 literacy programs nationwide.
Along with her memoirs, she's the author of "C. Fred's Story" and "Millie's Book," based on the lives of her dogs. Proceeds from the books benefited adult and family literacy programs.