WAXAHACHIE -- Back in May, a small section of a local cemetery here called "Babyland" received another occupant.
His name was Cashh. He was laid to rest in a little white coffin. He lived just nine days. He was born to his mother, Shaye Bear, on the floor of an Ellis County jail cell on May 17.
As a preacher stood over the little casket, his grieving grandmother, Sherry White, listened intently. Tears streamed down her face. Bear, looking shocked, sat by her side.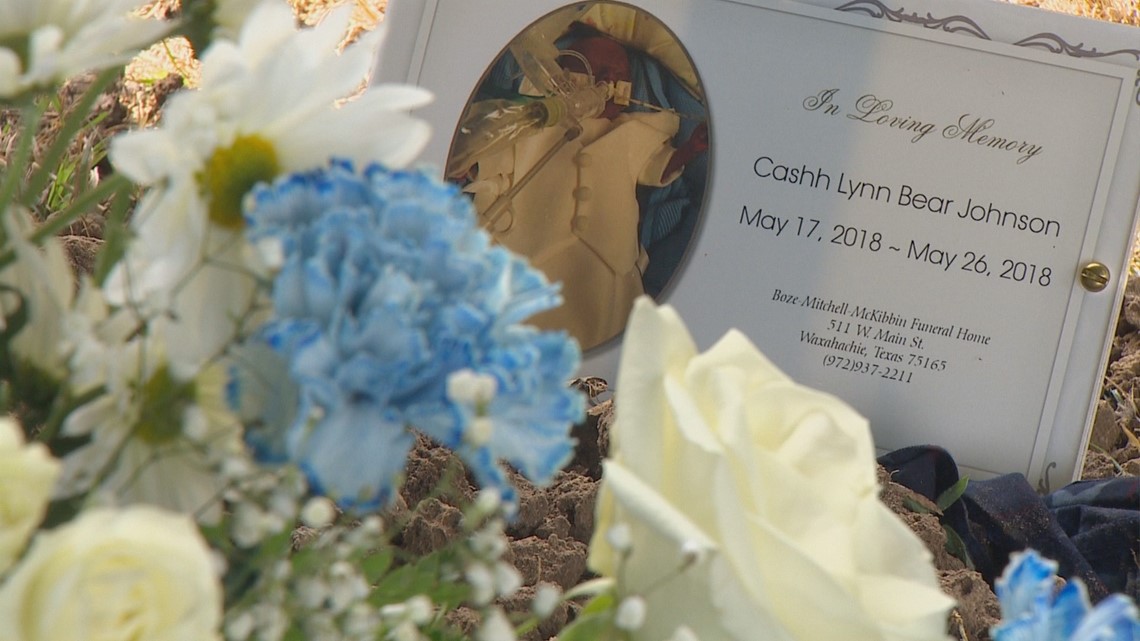 "Jesus said 'I go to prepare a place for you,'" the preacher said. "He's already prepared a place for Cashh. … He was precious to the Lord."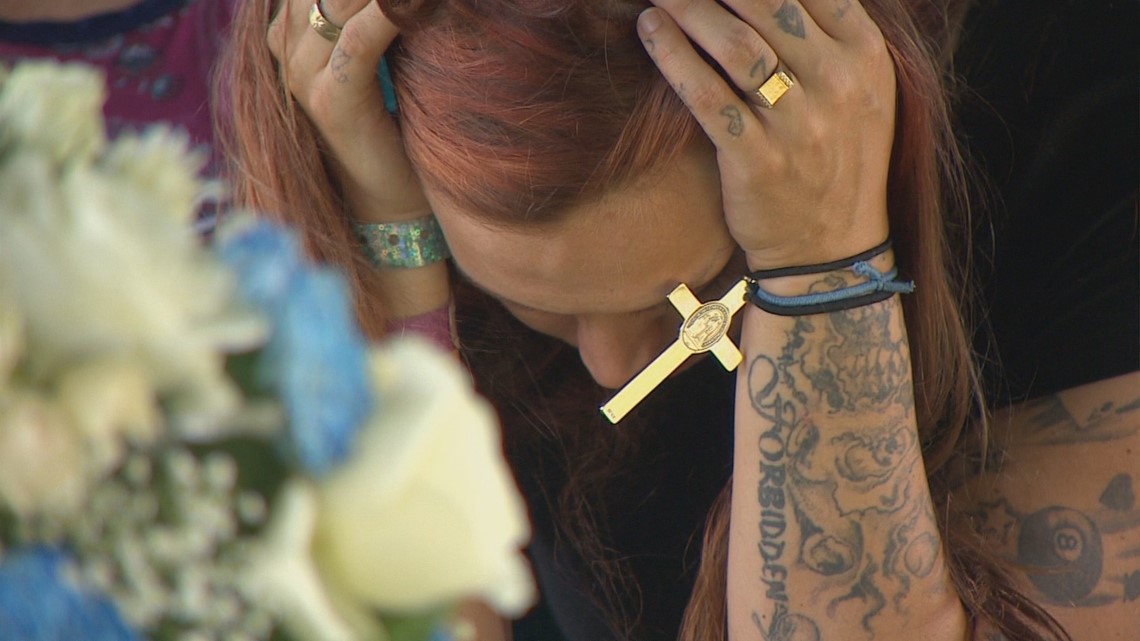 When Bear gave birth, she had already been in jail for more than two months on a drug charge. She is an admitted drug addict. At the time of her arrest, she was pregnant and hiding drugs in her vagina.
The circumstances surrounding Cashh's birth are being investigated by the Texas Rangers. The sheriff's department issued a statement last month that said it is "confident there was no fault by the Ellis County jail staff or medical staff."
The jail has declined to answer any additional questions.
Did the Ellis County jail do all it could to protect her unborn child? Do any laws need to be changed to prevent another Cashh?
"You're faking it"
Let's go back to May 16, the day before Bear gave birth.
"She was screaming all night long," said Sarah Malesky, who had been Bear's cell mate. "The guards just kind of laughed it off. They were like, 'Oh you're faking it.'"
Bear repeatedly complained she was having contractions. Jailers moved Bear into a single cell.
That night, Bear would not stop screaming, according to an inmate who asked that we protect her identity. She says a guard let her talk to Bear. She says she tried to tell the guard that Bear seemed like she was really in pain.
The prisoner says the guard told her to tell Bear to "shut up and breathe."
Early the next morning, May 17, a jail doctor examined Bear.
"I was having full contractions," Bear told News 8.
She says the doctor checked her cervix and determined she was not in labor. She says he told her she was likely bleeding due to an infection.
That doctor works for Correct Care Solutions, a Tennessee-based company that provides jail medical care to facilities cross the county. The company began providing care in Ellis County's jail in 2016. When News 8 asked questions about Shaye Bear's care, the company issued a statement:
"Correct Care Solutions strives to deliver the highest quality care to all their patients. However, due to federal privacy laws, we are unable to comment as to the care provided in this case."
Court hearing
That afternoon, on the 17th, hours after she saw the jail doctor, Bear appeared in court. She was seeking a bond reduction so that she could afford to post bail and get out of jail.
"I'm having contractions every five minutes all night, have been all night," she told the court, according to a transcript of the hearing.
"Are you in pain right now?" her attorney asked.
Bear told the court she had been in pain for two days and had seen the doctor that morning.
The prosecutor argued that, given Bear's history of drug use while pregnant, the only way to protect her child was to keep her in jail until her child is born. District Judge Cindy Ermatinger agreed.
"I do not believe your baby will be safe if I let you out," the judge said, according to the transcript.
"Can you ask them to take me to the emergency room?" Bear asked.
The judge responded, "They will take you back to the jail and have the doctor look at you and see if you need to go to the emergency room."
Bear pleaded. "Stop talking for a moment, please," Judge Ermtinger told her. "You can't even listen to me in court. You are not going to listen to anybody if you are out. Stop."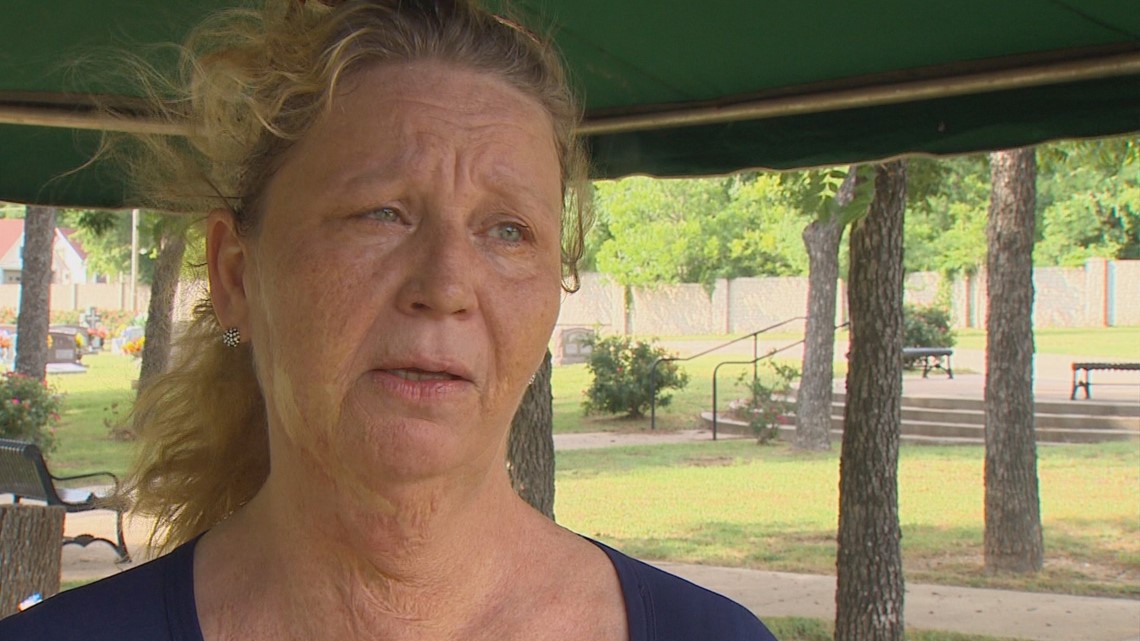 White, Bear's mother, was in court that day.
"You could tell how much pain she was in," White said. She is raising her daughter's two sons, a toddler and an eight-year-old.
Back to jail
After that hearing, guards returned Bear to her jail cell. But Bear says they didn't let her see a doctor, as the judge had ordered.
Hours after she returned to the jail, Bear gave birth, alone, in a cell.
"I delivered a one-pound, two-ounce baby in that single cell screaming for hours, begging them to come and help me," Bear told News 8.
She says she had to suck the afterbirth out of her son's nose and mouth. Bear held him in her arms as the guards finally came.
Both prisoners described hearing Bear's screams as she delivered her own child.
"It was awful," said the prisoner who asked not be named. "She did not deserve that. I mean, that baby didn't deserve that."
She believes the guards thought Bear was faking it.
"They didn't do anything," she said. "They were all clowning on her."
Ellis County jail officials insisted on recording News 8's interviews with the two inmate witnesses, Malesky and the inmate who asked that we not use her name.
The two prisoners said they were speaking out even though they feared it would result in retaliation in their court cases.
"It just wasn't right what happened," Malesky said. "We're talking about a newborn's life."
Word spreads
The first word of what happened to Bear came from a local attorney unconnected to Bear's case. The attorney, Theresa Peel of Waxahachie, alerted the legal community in an email.
She had initially been contacted by a friend of an inmate. Peel talked to two other attorneys who told her Bear had been "having episodes in the courtroom" earlier that day.
Diana Claitor of the Texas Jail Project, an Austin-based nonprofit that monitors the state's county jails, also received a call about the events inside the Ellis County jail.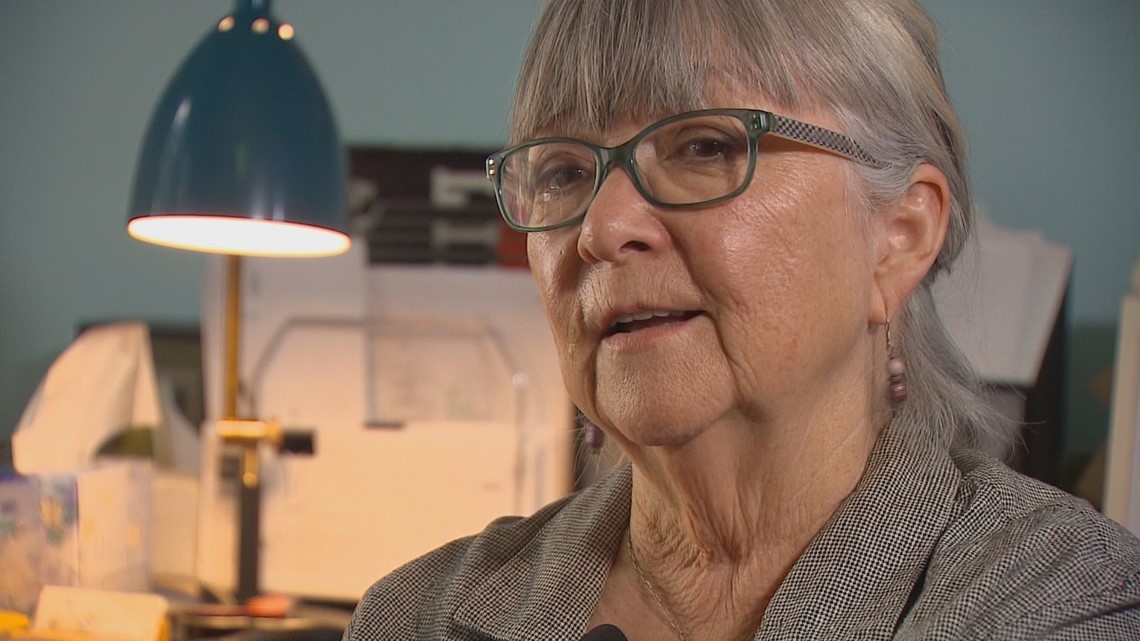 An inmate had called her mother who, in turn, reached out to Claitor. The inmate told her mother that she didn't like Bear, but said all of the female inmates were horrified by how Bear was treated.
"The women in her unit were watching and listening to Shaye scream and cry and this was no fake," Claitor said.
"They're not always lying."
Claitor says the first reaction to an inmate's complaints is often that they that they must be lying. But if the case of a pregnant inmate, another life is at stake if the jailer's wrong, she said.
"They're not always lying," she said.
Claitor says she's received at least three complaints about the Ellis County jail – all of them involving pregnant inmates.
Testimony from a former inmate at the Ellis County jail helped pass a state law in 2009. The woman described being pregnant and not getting proper care, including adequate nutrition and vitamins.
"I was so upset that the jail put me on suicide watch," the former inmate told lawmakers. "During this whole time, I was afraid I would lose my baby."
Her mother also testified. She told lawmakers that her daughter lost weight because she wasn't receiving proper nutrition.
"The child is innocent of all the sins that the mother may be accused of, but my granddaughter was totally vulnerable to the whims of the jail," her mother said.
As a result of that 2009 law, all county jails must now have a policy on file for handling pregnant prisoners. Up until then, county jails were not required to even have a policy.
But that law left it up to jails to devise their own standards.
"This leaves it wide open to abuse and very, very cheap medical care a lot of the time," Claitor said.
To this day, county jails are not required to make sure pregnant inmates see an obstetrician or a doctor with expertise in high-risk pregnancies.
Claitor is hoping that will change in the coming legislative session.
Ellis County policy
The Ellis County inmate who asked that News 8 conceal her identity is also pregnant. She says she was never seen by a doctor, much less an obstetrician, during her time in the county jail.
"Medical doesn't do anything here," she said. "They don't even have an OB-GYN for pregnant people."
She has since been released from jail. She said in a subsequent interview that weeks went by before she was taken for a sonogram.
Almost two years ago, Ellis County's jail administrator, Terry Ogden, told the Texas Commission on Jail Standards that pregnant prisoners are "always" housed in the "infirmary." He said they had not needed to place them in a segregated cell.
Scroll down or click here to read Ellis County's response to the jail policy survey.
Remember Bear gave birth in a jail cell alone. Bear, the other inmates, as well as a former guard, say pregnant prisoners are not being housed in the infirmary.
Ogden's responses were part of a survey ordered by state lawmakers. They wanted to know how the state's county jails handled pregnant prisoners.
In the survey, he also said an obstetrician-gynecologist handles the majority of routine care for pregnant inmates.
Last session, Claitor's group sought passage of a bill that would release pregnant prisoners without a violent criminal history on personal recognize bonds unless "good cause is shown otherwise."
She is working with a lawmaker to again try to get the change in the law. She also wants to require jails to obtain the medical records of pregnant inmates.
"This is not first baby that's been delivered in the bottom of a cell on the floor in Texas," she said. "I wish it would be the last though."
"Confident there was no fault…"
After his birth, Cashh was on life support at Cook Children's Hospital in Fort Worth.
Doctors said if he had lived, he would have never had a normal life. His kidneys were failing. He had brain damage. His lungs were underdeveloped. His heart was failing.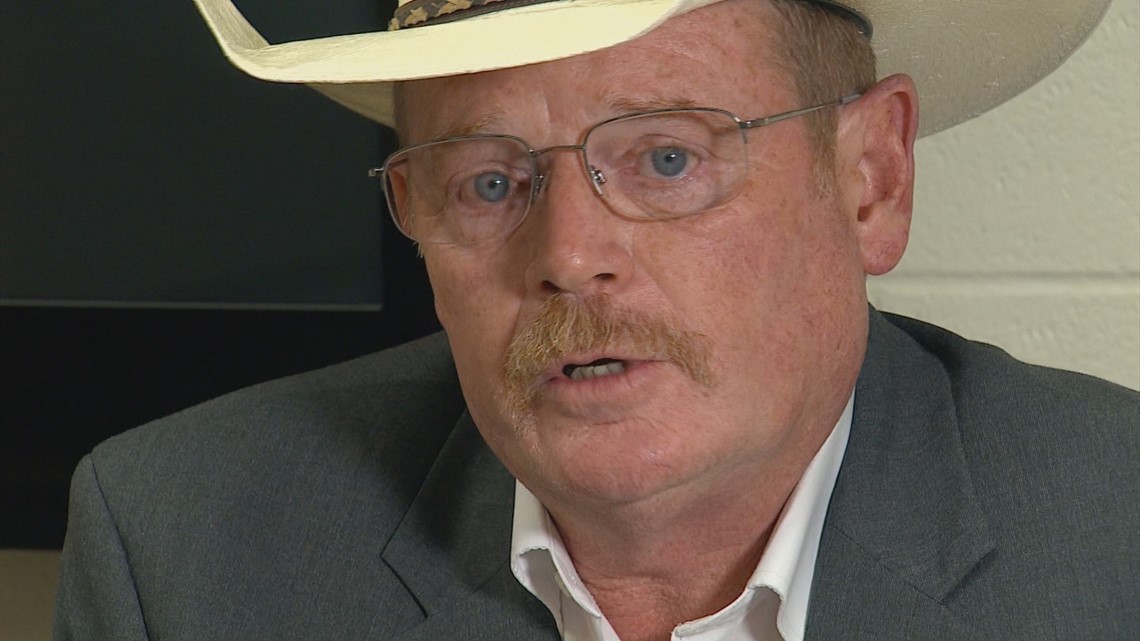 Hours after News 8 interviewed Malesky and the other inmate, Ellis County officials put out a statement that mostly attacked Bear's character and shed no new light on the actions of its staff. The release recounted that drugs were concealed in her vagina when she was arrested, and that she had given birth to another child while in jail on another felony drug offense.
"Bear received regular medical care and evaluation, including prenatal care," the release said.
The release said Bear "routinely and consistently refused certain medical options."
The release mentioned Bear's appearance in court, but did not mention that Bear repeatedly told the court she was having contractions and begged to be taken to the emergency room.
"Ms. Bear routinely displayed antipathy toward her unborn child, and her conduct was noted by many as being detrimental to the life of Baby Bear," the release said. "We are confident there was no fault by Ellis County jail staff or medical staff."
"No more Cashhes"
No one will ever know what would have happened if the jail had just heeded Bears pleas and took her to the hospital.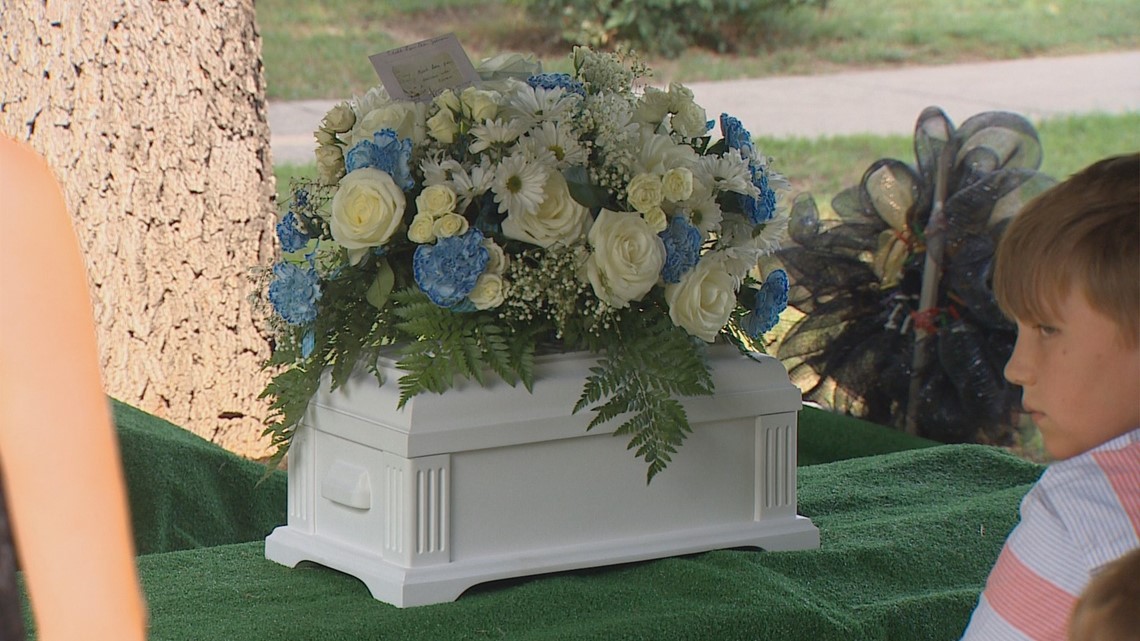 "I never thought I'd be burying one that I barely got to put my hands on one time," says White, Cashh's grandmother.
At the funeral, they released white balloons to remember Cashh. Bear's toddler son wondered around unaware of the sadness surrounding him.
Each family member shoveled dirt on Cashh's casket as they said their final goodbyes.
"We can't get Cashh back but by God's grace there will be no more Cashhes," White said.