HOUSTON - Barbara Bush's legacy lives on in so many ways - that includes her cooking.
Mrs. Bush shared her famous chocolate chip recipe with the pastry chef at the Houstonian Hotel years ago. She used it to win a cooking competition decades ago. Now, it has become the Houstonian's signature cookie.
"There's a lot of history with the Bushes here at the hotel. George Bush Sr. lived here for a while at the Manor House and was moved to the hotel. They would come here quite often. They know all the employees and servers names at Olivette. They considered this part of their home and family, and we consider them part of our family," said Pastry Chef Catherine Rodriguez.
The Houstonian has given away thousands of Barbara Bush Cookies in the last week.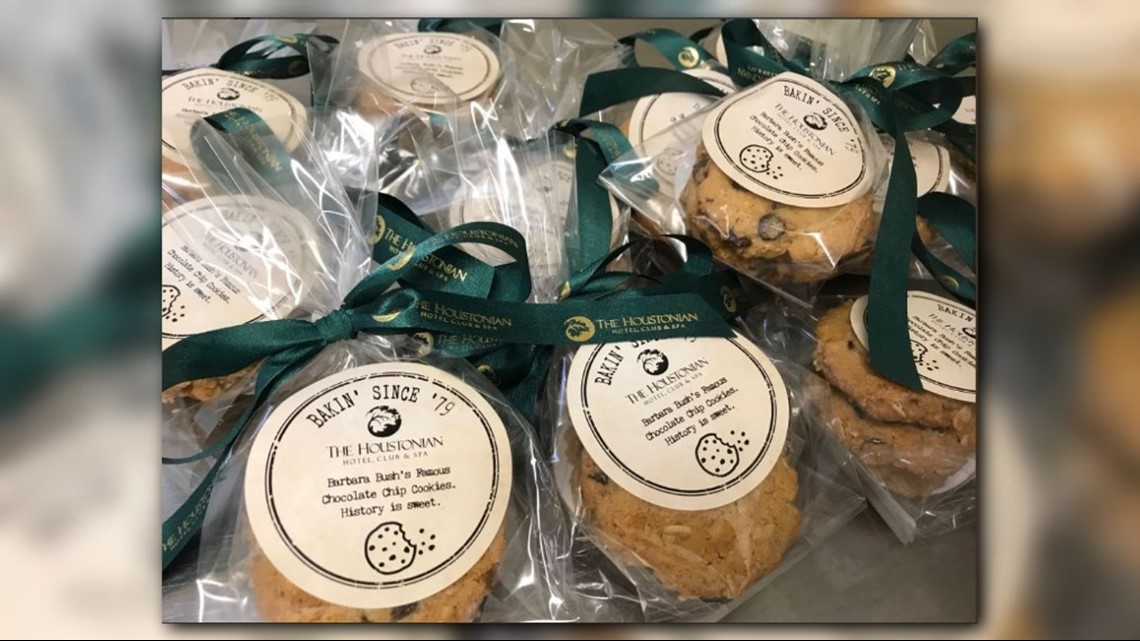 Now, they're sharing the recipe to honor the former First Lady.
"The difference is it isn't one of those chewy chocolatey chip cookies. It has oats in it, and it has Valrhona chocolate chips, which I consider the best chocolate. That's what we use here at the hotel," said Rodriguez. "I feel honored that I'm able to continue the tradition of the Barbara Bush Cookies at the Houstonian Hotel."
Barbara Bush's Famous Chocolate Chip Cookies:
2 teaspoons vanilla extract
1 package (12 oz) chocolate chips
Blend butter, granulated sugar and brown sugar.
Add the baking soda and salt.
Add and mix in the oatmeal, vanilla and chocolate chips.
Drop by teaspoonfuls onto cookie sheet.
Bake for 10 minutes at 350 degrees.
*Pro tip: Make sure butter and eggs are room temperature before mixing.