HOUSTON — Houston is full of hidden treasures and one of them sits more than 200 feet below Buffalo Bayou Park near downtown.
The Buffalo Bayou Park Cistern, reminiscent of the ancient Roman cisterns in Istanbul, is the size of 1.5 football fields.
It was built by the City of Houston as a drinking water reservoir in 1926. It once held 15 million gallons of water but an unrepairable leak forced the city to shut it down in 2007.
The 87,000 square-foot space was about to be demolished in 2010, but the Buffalo Bayou Partnership recognized the potential of the unique space and convinced the city to turn it over to them.
In a bold move, they restored and re-purposed the Cistern into a public space to house art installations.
It opened to the public in 2016.
Fast forward to 2018 and the cistern is now home to a magical light show from famed artist Carlos Cruz-Diez.
Paul Hester
As visitors wind around a walkway above the cistern, lights dance on the tall, slender columns and on cubes floating in a shallow pool of water. The walls, floor and ceiling are also bathed in the brightly-colored lights.
Cruz-Diez -- known worldwide for his work with color, movement and perception – also added an interactive element to his cistern light show. Visitors are encouraged to wear white bathrobes handed out at the beginning of the tour. Along the way, the robes become canvasses for the colorful lights that come from 26 projectors.
PHOTOS: Magical light show in Buffalo Bayou Cistern
PHOTOS: Magical light show in Buffalo Bayou Cistern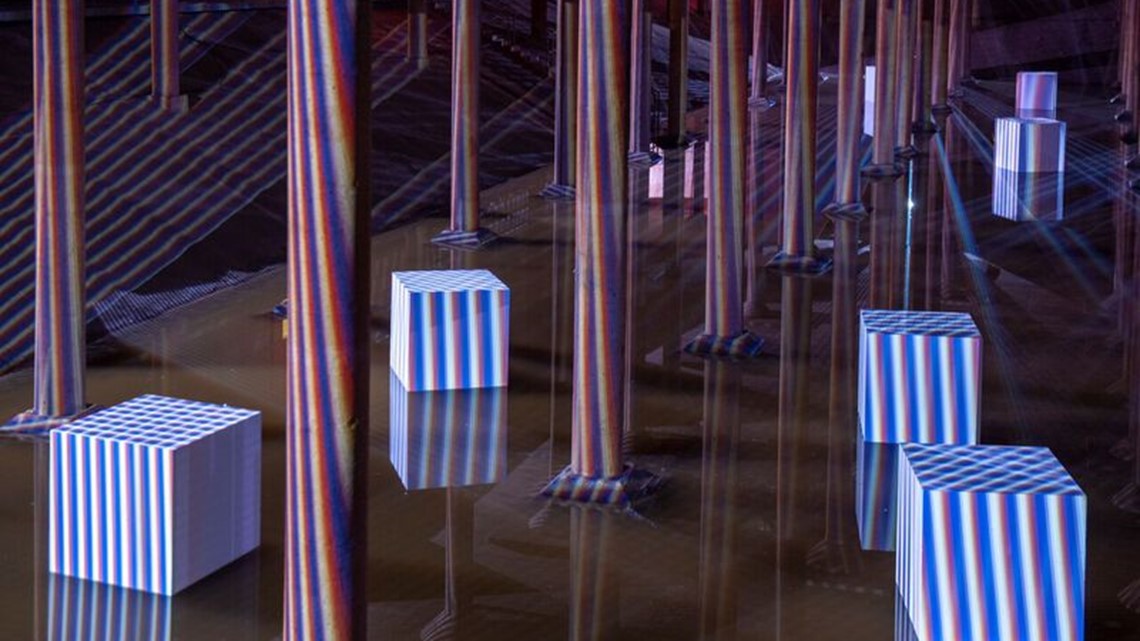 "When Carlos Cruz-Diez expressed interest in working in the Cistern, we were not only honored but thrilled about the possibility of bringing his mastery of color and movement into this industrial space," said Judy Nyquist, BBP Board Member and co-chair of the organization's Public Art Committee.
Carlos Cruz-Diez at the Cistern: Spatial Chromointerference opened to the public on May 12 and will continue through January 2019.
It's open Wednesday, Thursday and Friday from 3:30 p.m. to 6 p.m. and weekends from 11 a.m. to 6 p.m. Tours are every 30 minutes.
Tickets must be purchased in advance.
Tickets Prices:
$10 for adults
$8 for seniors (65 and over), ages 9 to 17 and students with a valid ID. Children under 9 are not
Admission is free on Thursdays.
Reservations must be made online.