The 'Yellowstone' Effect | How the Paramount Network series spotlights real-life cowboys
"It's amazing. I've never seen anything like it," said professional cutting horse trainer Justin White.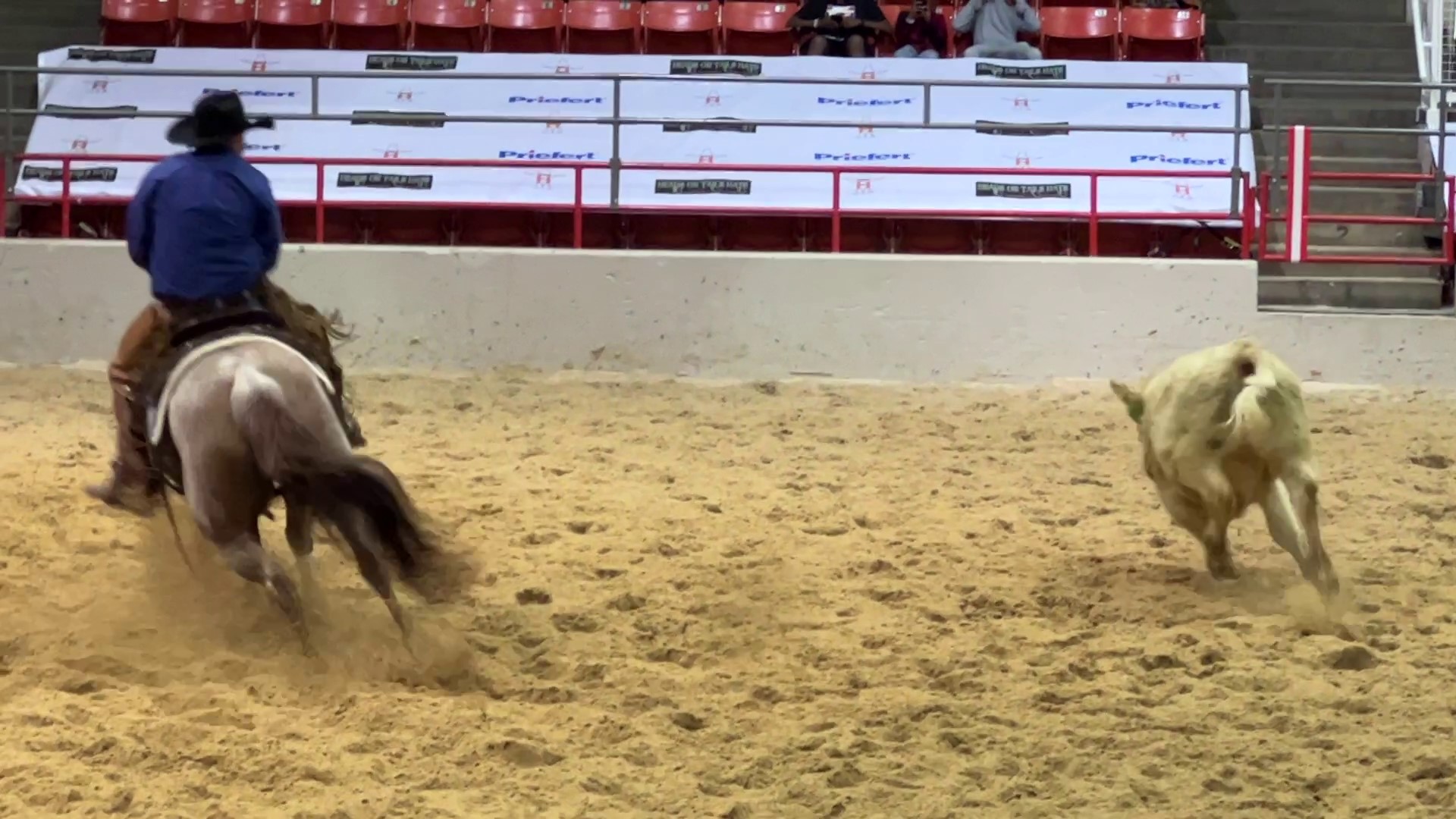 They call it "The 'Yellowstone' Effect."
"Unreal what it's done to the cutting world," said Justin White.
The Paramount Network's TV series, currently in its fifth season, follows the Dutton family, led by patriarch John Dutton, who operates a cattle ranch in Montana.
Between the power struggles, complicated relationships and threats inside and outside the family, 'Yellowstone' also manages to illustrate life as a cowboy.
"He's done a great job of portraying it," said White, referring to Taylor Sheridan, the show's co-creator and a native Texan. "(He's) one of the biggest supporters of our industry. What he's done for this and getting cutting out there, it's amazing. I've never seen anything like it."
"I've shown cutting horses all my life," White said. "I think I've showed my first cutting horse in Houston in 1999."
He won championships there in 2011, 2012, 2017, 2019, 2021 and 2022. In the middle of all that, he became a professional trainer in 2012.
"Cutting is all about showing off your horse. It's not about the rider," explained White. "They're judging the horse, not you."
'Bred to do this'
:
What is a cutting horse competition?
So what is a cutting horse? And how does the competition work? The answer to that first question comes from the ranches of the American West.
"All the big ranches had, when they gathered cattle, worked cattle, worked calves, what they called a cutting horse," said White.
That horse specialized in separating – or cutting – a cow away from its herd by reacting to the cow's moves.
"You can kind of compare it to a linebacker trying to stop a running back," White said, stressing that not just any horse can be a cutting horse. "These horses are bred to do this. They have a natural cow instinct and when you cut a cow out, you can just feel the horse's mind and feel them take over. They're super athletic. They're super smart. It's hard to explain until you ride one."
The first advertised cutting horse competition was back in 1898 in Haskell, Texas, and the sport has grown in popularity since.
"It's just the most ultimate cowboy thing you can do horseback," said White. "You've got three minds: the horse's mind, the cow's mind and your mind. You've got to get them working in unison."
That's what judges watch for during a competition. According to the NCHA, the score is based on the rider's cuts – which cow is chosen, the horse's ability to control the cow and the overall attractiveness or eye appeal of the run. Riders have two and a half minutes to show what the horse can do – really, on its own.
"Once we get one cow out by itself, we put our hand down and it's all horse. His mind. His thought. His athletic ability," White said. "It's his job to work that cow and hold that cow and that's what they're bred to do and that's what they love to do."
They also spend years training. At least two, according to White. That's what he does at Rocking W Ranch in Chappell Hill.
'Everything for myself and our family'
:
White trains the next generation of cutting horses
"To start 'em from babies and bring them along and develop 'em from the first ride to taking them to the show pen, it's just so rewarding," said White. "There's so much more to this sport than just cutting a cow and holding a cow. It's been everything for myself and our family."
When we caught up with him at his ranch's enclosed arena, White was working with 13-year-old Elle Martin, who was preparing to show at HLSR.
"My parents did it when they were my age and they've done it their whole lives, so I was kind of born into it and grew up doing it," she said.
When she's done with her lesson, Martin's mare Shakira goes back in the barn alongside several other horses White is training -- until it's time to pack for the next competition. Then the trailers get loaded, first with tack and supplies, then with the horses. On this day, they're headed down US-290 to Houston for the Horse Show at the Houston Livestock Show and Rodeo.
'Come over and watch'
:
Horse Show at HLSR hosts weeks of events
"It's a full-on show," said Jennifer Hoff, General Horse Show chairman, describing the weeks of cutting, ranch rodeo, sorting and more.
"The Horse Show is like a rodeo within the Rodeo," she said. "There's so much that happens over here that people don't even know about, understand, comprehend."
It starts the Thursday of the BBQ cookoff and stretches to the last Sunday of the rodeo, bringing in people from all over the state and beyond.
"It's kind of a family affair out here," said Hoff. "You've got the kids. You've got the trainer. You've got the parents. You've got their siblings."
Not to mention the volunteers – all 2400 of them on 11 different subcommittees.
"The biggest Horse Show committee is Horspitality. They're the ones that help manage that crazy parking lot and welcome all of our exhibitors in," Hoff shared. "You get to know all of these people. It's typically the same folks. I'm happy about that, that we put on a good enough show that they come back year over year. It starts to feel like family, not just with your fellow volunteers, but with the exhibitors."
For spectators, admission is free.
"If you're on the grounds, you're welcome to come over to the Horse Show and watch whatever for as long as you want to watch," said Hoff.
Because if watching Yellowstone has been your only exposure to cowboys, cutting and competition until now, you're in for an education.
"I still learn something new every year, something I haven't seen and I'm curious about," Hoff said. "It's free. It's open to the public. We want people to come on out."
For more information about the Horse Show at the Houston Livestock Show & Rodeo, click here.