The soggy weather has forced some communities to cancel their annual festivities but here's a list of the events still planned.
JULY 4
The Freedom Over Texas concerts and festival at Eleanor Tinsley Park have been canceled. The fireworks show at 9:35 p.m. will go on as planned but no one will be allowed on site. You can watch the fireworks on TV or from nearby neighborhoods.
ExxonMobil Summer Symphony Nights: Star-Spangled Salute
Kick off America's birthday celebration at the Star-Spangled Salute as the Houston Symphony takes the stage to perform a few patriotic favorites. The concert is from 8:30 to 10 p.m. There will be a fireworks show right after the concert. This is a ticketed event for the covered seating area. Free tickets are available (4 per person over age 16 while they last) at the Miller Outdoor Theatre box office the day of the performance between the hours of 10:30 a.m. to 1 p.m.
Photos: Fireworks at 2017 Freedom Over Texas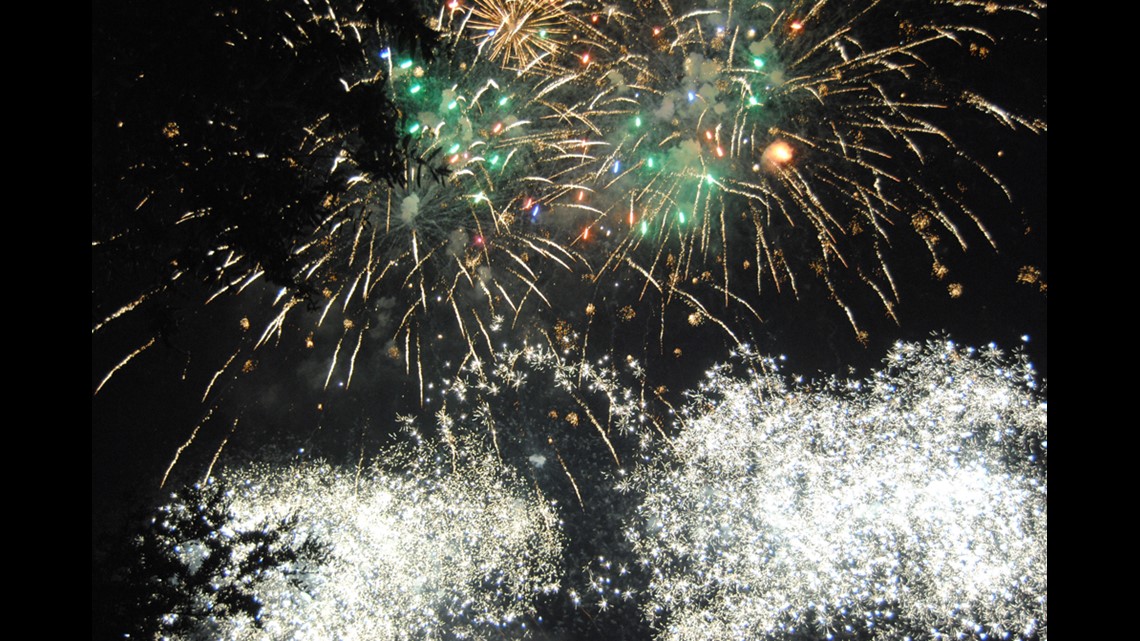 4th of July Weekend at CityCentre
CityCentre will have live music and a 15-minute firework display that you don't want to miss. The event will happen from 7 to 11 p.m and will feature the Texas Unlimited Band. Parking is $10 in all CityCentre garages beginning at 4 p.m.
4th of July Celebration at Bayou Bend
For something a little different, head on over to Bayou Bend for an extravaganza. The festival will feature performers, crafts, activities, refreshments and more. Enjoy a reading of the Declaration of Independence – followed by a toast with lemonade. Admission is free and the event is from noon to 5 p.m.
Fourth of July Snow and Ice Celebration
If you are looking for a place to stay cool on Independence Day, head on over to Memorial City Mall for a snow and ice celebration. The mall is bringing in 20,000 pounds of snow for people to make snowmen and snow angels. Enjoy frozen treats, patriotic treats and endless fun for all. The event is from 5 to 8 p.m. at The Square at Memorial City.
City of Bellaire Fourth of July Parade and Festival
Catch the morning parade filled with floats, classic cars and local school bands. The parade begins at 9:30 a.m. Following the parade, kids can enjoy a festival featuring a rock wall, water slide, petting zoo and more at Bellaire Town Square Loftin Park.
21st Annual Red, Hot & Blue Festival & Fireworks Extravaganza
If you're in The Woodlands, there are multiple locations to celebrate Independence Day between 6 p.m. and 10 p.m. There will be live entertainment with performances by Keeton Coffman, Phatso, Klockwork Band, Uptown Drive and Willow Creek Junction. A fireworks show will end the evening at 9:30 p.m.
Fireworks show at Katy Mills Mall
The 4th of July celebration at the Katy Fire Station and Heritage Park has been CANCELED. The City of Katy Office of Emergency Management posted a notice on Tuesday saying the events have been canceled due to heavy rain that is expected Wednesday afternoon. The office said the fireworks show is still on however since the bad weather should move out by the evening hours. The fireworks show will take place at the Katy Mills mall at 9 p.m.
July 4th Celebration at La Centerra
Live performances will keep you on your feet at La Centerra's Fourth of July celebration. Food and drink will be available while kids can have a fun-filled time at the interactive kids zone. Performances begin at 5 p.m. with fireworks beginning at 9:15 p.m. The event is free but it is recommended you get there early.
179th City of Galveston Celebration Independence Day Parade and Fireworks
Seawall Boulevard will host Galveston's parade at 7:30 p.m. You can catch a glimpse of performers, floats and decorated military vehicles. Head on over to 37th Street and Seawall Boulevard for the fireworks show beginning at 9:15 p.m.
Fourth of July at Kemah Boardwalk
Before watching the fireworks display over the Gulf of Mexico at 9:30 p.m., you can hang out at Kemah Boardwalk to get a bite to eat or play some games.
Pearland will celebrate the evening by kicking it off with a military salute. From 6 p.m. to 10 p.m., you can watch live performances or check out the vendors before heading inside the Pearland High School Football Stadium for this year's fireworks display.
Buffalo Run Park will feature many free activities including pony rides, a rock wall, mechanical bulls and more. Fireworks will begin at 9:15 p.m., but get there early! The first 600 kids under 12 will get a free gift.
4th Fest at Constellation Field
Catch live performances by the Cory Green Band, Jason Boland & The Stragglers and Mike and the Moonpies. Gates open to Constellation Field at 4 p.m. and the first performance will begin at 6 p.m. Tickets can be found online at sugarlandskeeters.com.
Parade at Market Street in The Woodlands
More than 20,000 spectators are expected along a 1.3-mile parade route through Market Street. Celebrate with more than 150 floats including color guard, federal, state and local elected officials. There will also be marching bands, fire engines and street performers. It happens from 9 a.m. to 11 a.m.
An American Tradition at George Ranch Historical Park
There will be a variety of historic games and a scavenger hunt through the park. There will also be a feast and the 5th Annual Cobbler-eating contest. Cost for the meal is $15 for adults ages 13 and older; $12 for children ages 5 to 12; and $4 for children 4 and under from 9 a.m. to 4 p.m.
The city of Friendswood hosts its 123rd Annual 4th of July Celebration featuring a parade at Stevenson Park. There will be rides, games, food and entertainment and a fireworks display at 9:20 p.m.
Kidpendence Day at Children's Museum of Houston
Join Captain America and the Founding Fathers and wear red, white, and blue. The event is included with general admission to the museum from 10 a.m. to 5 p.m.
City Acre Brewing co. near Oak Forest
City Acre Brew Co. is grilling all-you-can-eat buffet of burgers, hot dogs and potato salad. The buffet is $11 per person from 11 a.m. to 5 p.m.
Block Party at Platypus Brewing on Washington Avenue | No Cover
Platypus Brewing hosts their family and dog-friendly 4th of July party with live music, craft beer, wine, BBQ, tacos and more. Noon to 11pm.
Jamboree at Smith Ranch in Katy
Bring the whole family to Katy for the annual 4th of July Jamboree and enjoy celebrating with lots of fun activities, food, and firework show. Tickets are $10 per person. 2 p.m. to 9 p.m.
Festival and Fireworks at Town Center Park in Kingwood | FREE
Make your way to Kingwood for a July 4th Festival featuring live music, DJs, vendors, food trucks, and fireworks. 3pm to 9pm.
4th Of Ju-Luau at Drink of Ages Pub in Montrose | No Cover
Drink of Ages pub celebration includes beer samples, coconuts, mead cocktails, pulled smoke pork tacos and sandwiches and more. The 4th of July Luau lasts from 4 p.m. to 10.
RELATED: List of canceled 4th of July events