Jeff Bagwell's journey to the Hall of Fame began when he was still in diapers. He lived and breathed baseball as a kid.
"He could throw a ball before he could walk," mom Jan Bagwell told the New York Times in a 1994 interview. "When he was six months old, we'd throw a ball to him and he would throw it back."
Bagwell was born in Boston and raised a Red Sox fan. Even though the family moved to Connecticut when he was just a toddler, they remained loyal to their Red Sox. As a Little League player, Bagwell worshipped Carl Yastrzemski, the Hall of Famer who spent his entire 23-year career in Boston.
Bagwell's own dream of playing for the Red Sox appeared to be coming true when they drafted him in 1989. Instead, he was traded to the Houston Astros in 1990 in a deal that sent pitcher Larry Anderson to Boston.
"Being traded to the Astros was totally foreign to me. I had heard of Nolan Ryan, but in my house, all we talked about was the Red Sox," Bagwell recently told the New Haven Register. "(I thought Houston) was horses, tumbleweeds and all that. If you've been there, you know it's not."
Turned out, the Astros would be his destiny and Houston would become his home.
Bagwell was named the 1991 NL Rookie of the Year in a landslide vote.
WATCH: Bagwell's NL Rookie of the Year news conference
A humble Jeff Bagwell held a news conference after being named the 1991 NL Rookie of the Year. Bagwell will be inducted into the Baseball Hall of Fame on Sunday. None
"I thought I was gonna be in Triple A too and I just thank the management of the Astros for giving me a chance to play first base," the humble rookie said. "It's just one of those things where I got a lucky break and I guess I took advantage of it and I couldn't be more happy."
Bagwell made $109,000 that season, the league minimum.
As the 1994 NL MVP and Gold Glove winner, the Astros were forced to raise Bagwell's pay to $2.4 million -- still peanuts by today's standards. But mom was impressed.
WATCH: Bagwell's first big league home run in 1991
Astros rookie Jeff Bagwell hit his first big league home run in 1991 and was later named NL Rookie of the Year. Bagwell will be inducted into the Baseball Hall of Fame on Sunday. None
"Never in my lifetime would I have thought that he would make that much money," Jan Bagwell told the Times. "This can't be my son. Two point four million! It staggers my imagination."
It was then, she began to dream big.
"My greatest thrill would be to see him in Cooperstown, in the Baseball Hall of Fame," she said in 1994.
RELATED: Jeff Bagwell elected to Baseball Hall of Fame
Fast forward 23 years later, and her son is in Cooperstown where he will be inducted into the Hall on Sunday.
Fans were in Cooperstown Thursday ahead of the induction, excited to witness the long-awaited moment in history.
WATCH: Fans in Cooperstown excited for Bagwell's Hall of Fame induction
Excitement is building ahead of Jeff Bagwell's induction into the Baseball Hall of Fame Sunday. None
The four-time All-Star and the Astros' all-time leader in home runs and RBIs, was finally elected to the Hall of Fame in January. It was the seventh time his name appeared on the ballot.
PHOTOS: Jeff Bagwell's Astros career
Bagwell, 49, and his wife Rachel toured Cooperstown in March.
"Surreal. I've been using that word a lot lately," he said. "You walk around this place and see the history, the names, statistics, and what it meant to the game of baseball. You realize the game is so much bigger than yourself."
Four months away from his induction, Jeff Bagwell visits his new home in Cooperstown: https://t.co/9ac1ClObim #HOFWKND #HOF2017 pic.twitter.com/W0JueN3KKt

— Baseball Hall ⚾ (@baseballhall) March 29, 2017
He took part in an orientation, along with fellow electees Tim Raines and Ivan Rodriguez.
"To come and look at the history of the game in so many different areas, it has just been awesome," Bagwell said. "To be here is something special."
After his tour and signing the spot where his plaque will hang, Bagwell was asked if the anticipation was building.
"I think this is the first step where I start to realize this is going to be reality," he said. "I think probably signing where my plaque is going to be is the first step in that."
Bagwell will be the second Astro enshrined in Cooperstown after Craig Biggio -- his teammate throughout his 15 years in Major League Baseball -- was inducted in 2015.
WATCH: Houston Astros tribute to Jeff Bagwell
Jeff Bagwell spent his entire 15-year career with the Houston Astros and he's one of the best players in Astros history. The team created this tribute to Bags after it was announced he will be inducted into the Baseball Hall of Fame. Bagwell joins longt 2015 Getty Images
Along with Biggio, Bagwell payed his entire 15-year career with the Houston Astros. The two became the heart of the Astros, playing 4,714 games together before helping Houston reach its first World Series in 2005.
The duo led Houston to the playoffs six times between 1994 and 2005. They became the only Astros to record 2,000 hits.
"I just remember the early days in the '90s and how much fun it was playing together," Biggio said after learning Bagwell had been elected to the Hall of Fame. "We just had a lot of fun together. We had a lot of fun playing the game together...I think I knew him better than he knew himself, and he knew me better than I knew myself. That's how long we played together."
In 2005, Bagwell and Biggio were inducted into the Texas Sports Hall of Fame, and both received Baseball America's Lifetime Achievement Award.
When Biggio reached his milestone 3,000th hit on June 28, 2007, Bagwell was at Minute Maid Park and left the dugout to congratulate Biggio, who then took him on the field and celebrated in front of the crowd together.
WATCH: Craig Biggio on longtime teammate Jeff Bagwell
Longtime teammate Craig Biggio reacts to Jeff Bagwell's election to the Baseball Hall of Fame. When he is inducted on July 30, Bagwell will join Biggio as the only Astros in the Hall. 2015 Getty Images
Most of Bagwell's career was played in the pitcher-friendly Astrodome where the former first baseman won the National League Rookie of the Year, was named an NL All-Star for four years and earned various awards while setting numerous franchise records.
Bagwell retired after the 2005 season in which the Astros reached the World Series for the first time in franchise history. He ended his career with 449 home runs, 1,529 RBI, 2,314 hits and 202 stolen bases.
Timeline: Jeff Bagwell's career
Accolades
1991 National League Rookie of the Year (first Astro in franchise history to earn the award)
1994 National League Most Valuable Player (one of nine players to win Rookie of the Year and MVP in a career)
Four-time National League All-Star (1994, 1996, 1997, 1999)
1994 Gold Glove winner
Three-time Silver Slugger winner (1994, 1997, 1999)
Only first baseman and one of 10 players all-time with more than 400 home runs and 200 stolen bases
One of six first baseman all-time with 1,500 RBI and runs scored
Holds Astros' all-time record for home runs (449), RBI (1,529), walks (1,401), intentional walks (155) and sacrifice flies (102)
Had No. 5 retired by the Astros on Aug. 26, 2007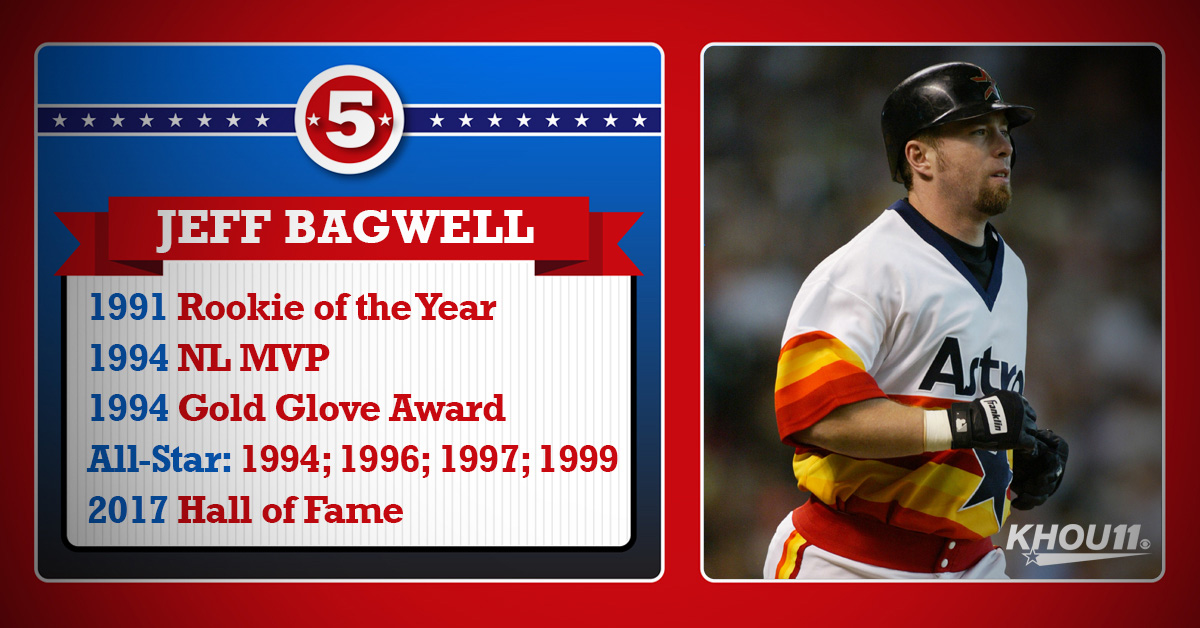 By the Numbers
Played 2,150 games with the Astros (2nd behind Biggio)
Hit .297 with 449 home runs and 1,529 RBI
Recorded 1,345 singles, 488 doubles and 32 triples
Stole 202 bases
Scored 1,517 runs
His 1997 season is the only season of at least 30 homers and 30 steals for a first baseman in MLB history
One of two players to join the Majors after 1972 and hit 400 home runs while playing their entire career with one franchise, joining Cal Ripken
One of two players to record as many as two seasons of 40 or more home runs with 30 or more stolen bases, joining Barry Bonds
Hit 30 homers, 100 RBI and scored 100 runs in six consecutive seasons from 1996 to 2001, joining Jimmie Foxx, Lou Gehrig and Babe Ruth as the only players to accomplish that feat during that time
Milestones
MLB debut: April 8, 1991, vs. Cincinnati Reds at Riverfront Stadium
First MLB hit: April 10, 1991, vs. Cincinnati Reds at Riverfront Stadium (single off José Rijo in the 4th inning)
First MLB home run: April, 15, 1991, vs. Atlanta Braves (2-run HR in the 9th inning off of Kent Mercker)
500th RBI: May 7, 1996, vs. Philadelphia Phillies at Veterans Stadium
1,000th MLB hit: May 19, 1997, vs. Philadelphia Phillies (solo HR in the 6th inning off Calvin Maduro)
First MLB grand slam: Sept. 8, 1998, vs. Cincinnati Reds at Astrodome
Becomes Astros' all-time HR leader: April 21, 1999, vs. Chicago Cubs at Wrigley Field (scored 3 HRs; second was a three-run HR in the 3rd inning off of Scott Sanders to become the all-time leader)
300th MLB HR: Aug. 19, 2000, vs. Milwaukee Brewers at Enron Field (3-run HR in the 2nd inning off of Jamey Wright)
Hit for the cycle: July 18, 2001, vs. St. Louis Cardinals at Enron Field (homered and doubled in an eight-run 5th inning)
2,000th MLB hit: April 26, 2003, vs. Montreal Expos at Stade Olympique (infield single)
400th MLB HR: July 20, 2003, vs. Cincinnati Reds at Great American Ball Park (2-run HR in the 4th inning and solo HR in the 6th inning -- both off of Danny Graves)
200th stolen base: Aug. 30, 2004, vs. Cincinnati Reds at Great American Ball Park
1,500th RBI: Sept. 18, 2004, vs. Milwaukee Brewers at Minute Maid Park (single in the 3rd inning)
1,500th run scored: Sept. 18, 2004, vs. Milwaukee Brewers at Minute Maid Park (2-run HR in the 5th inning off of Gary Glover)
First postseason home run: Game 2, 2004 NLDS, Oct. 7, 2004, vs. Atlanta Braves at Turner Field (solo HR in 1st inning off of Mike Hampton)
Last MLB plate appearance: Game 4, 2005 World Series, Oct. 26, 2005, vs. Chicago White Sox at Minute Maid Park (pinch hit for Brandon Backe in the 7th inning)
No. 5 jersey retired: Aug. 26, 2007, at Minute Maid Park
WATCH: Brad Ausmus on Bagwell
Longtime teammate Brad Ausmus reacts to Jeff Bagwell's election to the Hall of Fame. Bagwell will be inducted to the Hall on July 30. 2015 Getty Images
WATCH: Former coach, manager Phil Garner on Bagwell
Former Astros coach and manager reacts to news that Jeff Bagwell has been elected to the Baseball Hall of Fame. Bagwell will be inducted on July 30. 2015 Getty Images