CONVERSE, Texas- The arrest last week of two teenage girls inside a Converse-area Whataburger has led to calls from the public for one of the deputies involved to be fired.
Video of the incident, posted to Facebook by the mother of one of the teens involved, appears to show a female Bexar County Sheriff's Office deputy throw one of the girl's meals on the ground.
Vanae Wright and Leilani Green, both 17, were taken into custody around 11 p.m. Friday after BCSO deputies said the girls refused repeated commands to leave the restaurant.
Deputies were originally called to the restaurant, located near Walzem and FM 78, for reports of a large fight in the parking lot.
A BCSO spokesman confirmed Tuesday no one involved in the fight itself was taken into custody.
"When deputies arrived it was a pretty chaotic scene. There were close to 100 people just in the parking lot alone," said BCSO spokesman James Keith. "They're trying to do their job, they're trying to figure out what's going on, and they need you to cooperate."
Keith added that Wright, who faces a misdemeanor charge of criminal trespass, took pictures of herself even after deputies told her to exit the restaurant.
Green can be seen in the video trying to put a hat on Wright as she's led away.
Green faces a misdemeanor charge of interfering with a public servant.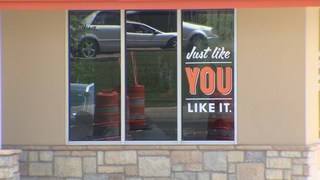 A Change.org petition calling for the termination of the female deputy believed to be involved in the arrests had more than 3,000 signatures as of Tuesday afternoon.
Wright's mother did not respond to a request for comment Tuesday. A woman working at her place of business said she would not be commenting publicly without her attorney present.
Keith said the sheriff's office is working to review Whataburger surveillance video of the incident and will determine whether the deputies involved acted appropriately.
(© 2016 KENS)