HOUSTON - An officer with the Houston Police Department is being transported to the hospital following a crash early Thursday.
The crash happened on Ley Road near Fitzhugh Street around 6:30 a.m.
Views from Air 11 show the officer crashed into the rear of a flatbed 18-wheeler. The driver's side of the officer's K-9 SUV took most of the impact in the crash.
The extent of the injuries involved is not yet known.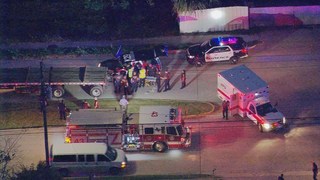 (© 2016 KHOU)