HOUSTON - Homicide investigators are looking into the murder of a man during an apparent robbery in north Houston overnight.
The fatal shooting happened late Wednesday outside an apartment complex on E. Crosstimbers near Fulton.
Houston Police say David Trejo-Gonzalez, 42, was walking home when he was held up at gunpoint. The robber shot the victim and then fled. Trejo-Gonzalez died at the scene.
Witnesses say the suspect got away in a white "low-rider" style truck or SUV, driven by an accomplice.
The suspect is described only as a black male in his late teens to early 20s, wearing black with white shorts, HPD stated in a press release.
Anyone with information should contact the HPD Homicide Division at 713-308-3600 or Crime Stoppers at 713-222-TIPS.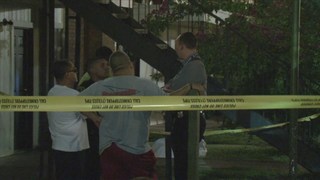 (© 2016 KHOU)