HOUSTON - HOUSTON - It's a cold-blooded killing that police believe could've happened to anyone,
A hard-working father is dead after being stabbed repeatedly in front of his 16-month-old son.
It happened on Sunday morning, Jose Flores Hernandez's one day off.
Relatives said Hernandez had just walked downstairs from his apartment at Magnolia Cove II on Goodson Drive in the Greenspoint area.
Hernandez placed his son Abner Josue in his car seat. The two were headed to go pick up some ingredients to make homemade soup, but Hernandez never made it out of the parking spot at his complex.
A man began stabbing Hernandez over and over as the child watched on. Hernandez struggled back up the stairs after the unprovoked attack. He was pronounced dead after being rushed to the hospital.
His wife Maria Quintanilla believes her husband didn't understand the suspect's demands because of a language barrier. She thinks the killer possibly wanted to steal her husband's truck.
Quintanilla doesn't know how she is going to support her family.
She told KHOU 11 News that her husband worked long hours in construction to pay the bills and put food on the table. He had just moved to Houston from Honduras in 2012.
Hernandez leaves behind his 16-month-old son, three stepsons who looked up to him as a father figure and an unborn child. Quintanilla is four months pregnant.
Neighbors tried to chase down the suspect following the attack, but he got away empty handed.
"That's horrible that somebody would do this in front of a baby," said neighbor Heathy Tracy. "We can't even go to the store without getting robbed for chump change or a phone or car keys."
Crime Stoppers released a grainy surveillance photo of the suspect at large on Wednesday morning. It's unclear where that image was taken.
Police described the suspect as a black, male, with a small afro, approximately 18-25 years old, 5'07-5'10, shirtless, wearing dark colored jeans with a red shirt hanging over his shoulder.
Crime Stoppers will pay a reward of up to $5,000 for information leading to the charging and/or arrest of the suspect(s) in this case. Information may be reported by calling 713-222-TIPS (8477) or submitted online at www.crime-stoppers.org. Tips may also be sent via a text message by texting the following: TIP610 plus the information to CRIMES (274637) or via our mobile app (Crime Stoppers Houston). All tipsters remain anonymous.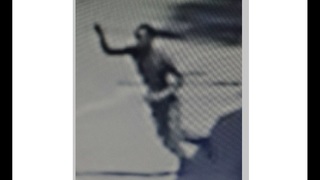 (© 2016 KHOU)