MONTGOMERY COUNTY, Texas- Authorities have arrested four people in connection to a double homicide that took place at a Tamina home in July.
According to the Montgomery County Sheriff's Office, the four people played a role in the murder of Jaquise Williams and Akeem Russell. The two men were found shot dead at a home in Tamina on July 20.
Related: 2 men killed in shooting at Tamina home
Authorities say the motive was robbery, but "things quickly got out of hand."
Roman Pray, 18, Thomas Lizcano, 17, and a juvenile have been charged with Capital Murder. Authorities say they could face the death penalty or life in prison.
Roddrick Jordan, 30, has been charged with Aggravated Robbery. Authorities say he could face 25 years to life in prison.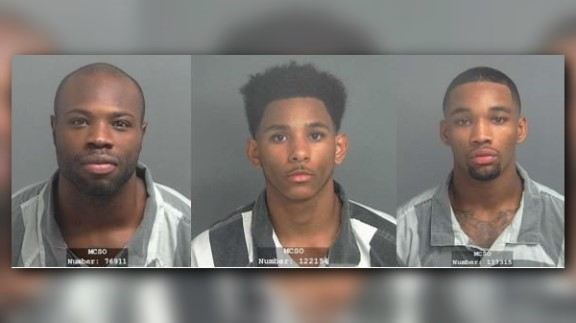 (Left to right: Roddrick Jordan, Thomas Lizcano and Roman Pray)
Authorities are still looking for more persons of interest and a late model, light colored Nissan Pathfinder. If you have any information about the shooting, please contact MCSO at 936-760-5800.
© 2018 KHOU-TV