HOUSTON - If you're a fan of terrifying haunted houses that make you scream bloody murder and run for your life, Houston is the place for you this Halloween season.
We've put together a guide to some of the area's top pay-to-scream attractions, based on Google ratings.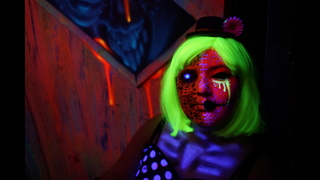 Enter at your own risk!
HOUSTON TERROR DOME (4.7 stars)
You know you're in trouble when the website advises you to "bring a change of underwear! You are going to need it!" Whatever you fear, you'll find it here, they promise.
Tickets start at $20
16030 East Freeway in Channelview
THE KINGWOOD ASYLUM AND HAUNTED GROUNDS (4.6 stars)
Voted #1 in Texas and 5th in the nation by the Scare Factor in 2016, the video and photos on their website are enough to give you nightmares for days.
Tickets start at $30
1963 Northpark Dr, in Kingwood
CREEPY HOLLOW (4 stars)
This place promises to give you more bang for your buck with three main attractions – Pitch Black, Dark Woods and Scare Factory. The side attractions are also included in the ticket price.
Tickets: $30
12872 Valley Vista Drive in Rosharon
This "spine-tingling" haunted house features The Swamp, Maze of Maniacs and Zombie Graveyard. They were voted best in Houston by the Chronicle and Houston Press, according to their website.
Tickets start at $29.50
2225 North Sam Houston Pkwy W
THE HAUNTED TRAILS (4 stars)
"When night falls and the monsters of these woods begin to howl, you'll enter a realm of terror you could not have imagined," the website warns.
Tickets: $25
11500 Antoine Dr, H
http://www.thehauntedtrails.com/
PHOBIA (3.6 stars)
"All our haunts are state of the art and packed with killer animatronics … Phobia is bigger, better and scarier than ever," according to their website.
Prices start at $15 (cash only)
5250 S SAM HOUSTON PARKWAY E
BELTWAY-8 between 288 & I-45
Rosharon haunt offers major adrenaline rush every weekend until November 5. None
SCREAM FEST (3.7)
This haunted festival includes nightly concerts, a carnival midway and zombie paintball, along with seven haunted houses.
Tickets: $35
1500 Elton off I-45/Gulf Freeway
NIGHTMARE ON THE BAYOU (2.9 stars)
This inside-the-Loop attraction is located right next to Houston's oldest graveyard. Employees swear it's really haunted.
Ticket prices start at $22
Next to Party Boy at 1515 Studemont