DICKINSON, Texas – It's been nearly four months since Mary Contreras' home flooded with four feet of water. Hurricane Harvey moved in during the dark of the night and sent water gushing into Contreras' home, forcing her family to evacuate.
Contreras has spent the ensuing months gutting her home and figuring out how she's going to rebuild. Her daughter's softball team helped tear out the sheetrock, and she's taken out a third mortgage to begin repairs.
She's also one of nearly 700 applicants who applied for the "Dickinson Harvey Relief Fund," a fund set up by the city after Harvey struck her small town. City leaders called for private donations to help residents rebuild.
Now, Contreras is one of hundreds of residents who received letters in the past week stating she's been denied funding. "Donations were not sufficient to award grants to all applicants. Consequently, the City is not able to provide you with a repair grant at this time," the letter reads in part. If not her family and all they've been through, Contreras thought, then who?
Residents who applied, who went through their own horrific experiences, are frustrated with city leaders. Where's the communication, they ask. Where's the transparency? And, most importantly, where's the money?
The Dickinson City Council appointed a seven-member committee to review applications and disperse the more than $1 million in funding. That committee voted to approve $2,000 grants to 425 residents in November, with the remaining funds being dispersed to local businesses.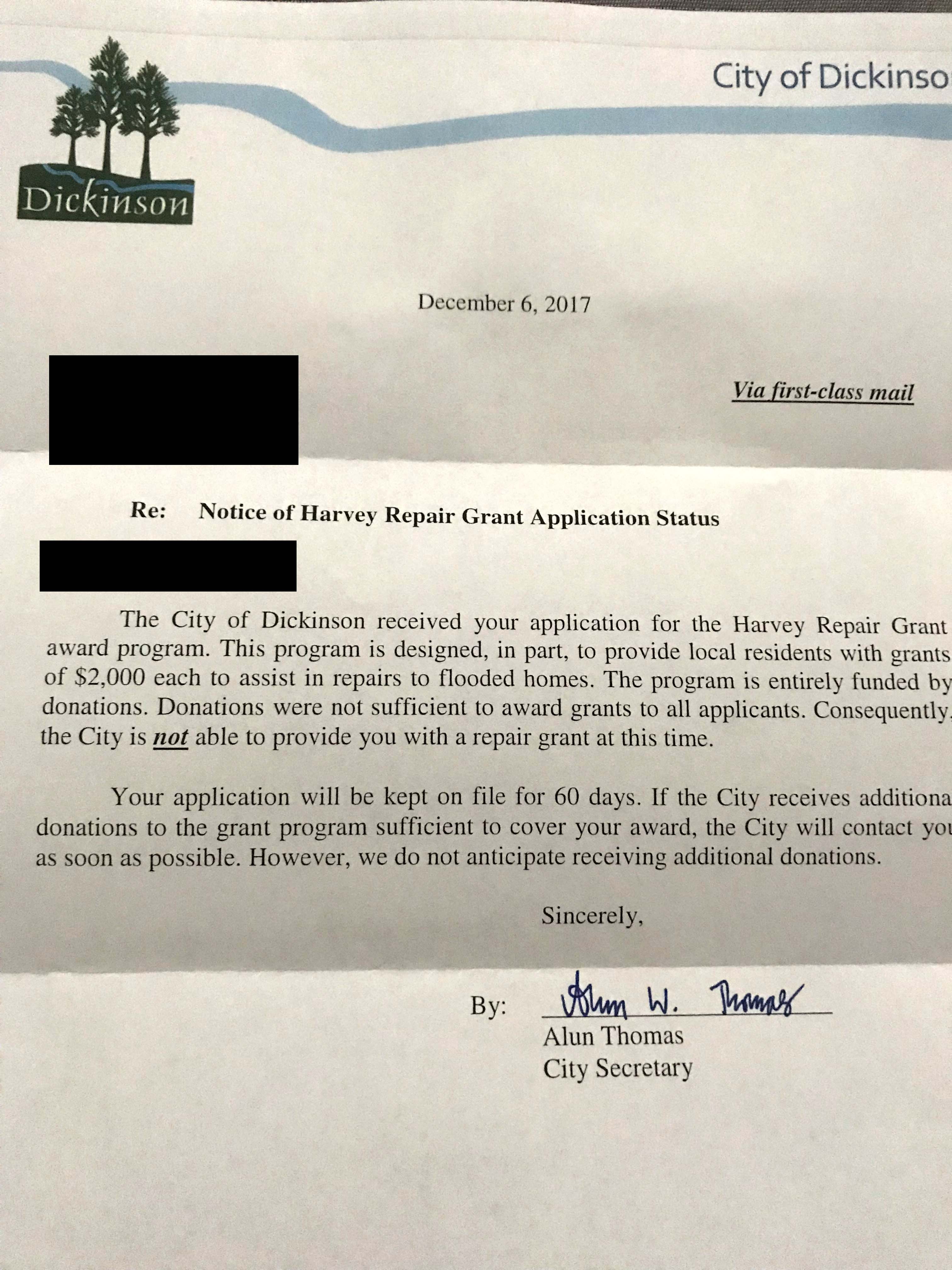 Read more: Devastation in Dickinson
The city's original plan was to disperse up to $3,000 for Dickinson residents and $5,000 for businesses. Instead, the committee opted for $2,000 grants to "make the most tangible difference," said Alun Thomas, the city's secretary.
Residents who received approval must agree to use the money to repair the structures of their homes, Thomas said, adding "we can help the community by fixing the status of houses."
The fund drew criticism in November as frustrated residents questioned why the money was sitting in a bank account and not helping those who need it most. Committee members had trouble coordinating times to meet to go through applications, city spokesperson Bryan Milward said in November. Texas' Open Meetings Act requires a quorum, or at least two-thirds of a committee to be present, to conduct official business.
One member then resigned and the city council appointed two new members as alternates. Since then, the committee has met regularly to sort through the applications, Thomas said.
The committee chose recipients through an anonymous process. All applications were redacted from all personal information. The committee then ranked each application based on severity of the damage. Thomas said those rankings were averaged to determine who received a grant.
Contreras is disappointed her family wasn't selected. The money would have gone to helping replace sheetrock or her flooded kitchen counters. But she said her family will make it through. The third mortgage is helping pay for repairs, and she's thankful for the help from the community that her family has received.
Although her family wasn't selected, "I really hope the money is helping someone who needs it," she said.